Chemistry and Biochemistry Department to celebrate 100-year anniversary
---
The University of Toledo's Department of Chemistry and Biochemistry will celebrate its 100th anniversary this week. The two-day centennial celebration will feature a presentation by green chemistry leader Dr. John C. Warner and a banquet at the Toledo Museum of Art.
Department grows
The UT Department of Chemistry and Biochemistry was established in 1915 with the appointment of Dr. Henry R. Kreider as chairman at its first home on the corner of Cherry and Page streets. In 1922, it moved to Nebraska Avenue and Parkside Boulevard where the current Scott Park campus is located, and moved again in 1931 to University Hall. This was deemed an adequate location until a post-war influx of students in 1946 made the space too cramped.
Bowman-Oddy Laboratories, the department's current home, was completed in 1967, and in 1998, Wolfe Hall was dedicated to support expanding research programs and growth of undergraduate and graduate enrollment.
Kreider served as the leader of the department for 29 years until he retired in 1944. After several alumni expressed their wishes to honor Kreider, a scholarship fund was created under the direction of Dr. Harold Oddy, the namesake of the building and chairman after Kreider. The fund became the Kreider Memorial Scholarship and is one of the highest student honors chemistry majors can receive.
A longstanding goal of the department was to become accredited by the American Chemical Society, the largest scientific society with more than 150,000 members worldwide. This milestone occurred in 1953, although the honors program was initiated earlier in 1939 for students in general chemistry classes. The first master's student, Martin Yee, was admitted in 1922, and the department's PhD program was established in 1967.
The department now hosts the third largest population of students taught at UT — more than 5,000 every fall. This growth reflects the key role that the Chemistry and Biochemistry Department has supporting numerous programs throughout the University.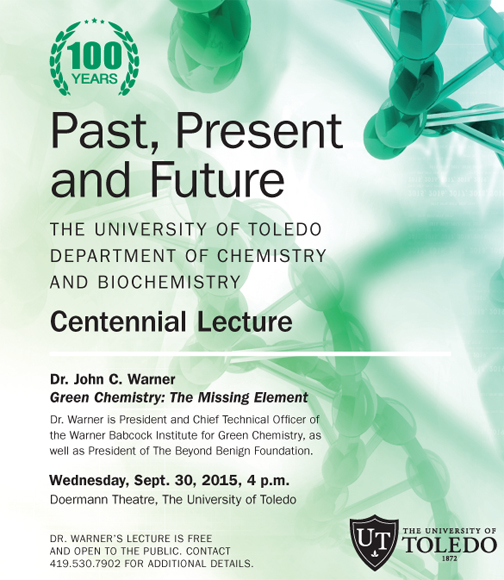 Esteemed alumni
In addition to exceptional changes within the department, there have been some exceptional alumni. Although too numerous to mention individually, chemistry alumni have impacted the world as we know it. UT chemistry graduates have been recognized for their work as medical doctors, dentists, pharmacists, university faculty, patent attorneys, and presidents, CEOs and research directors at Fortune 500 companies.
Their notable achievements and discoveries include the development of synthetic diamonds, the synthesis of artificial sweeteners, invention of vacuum pack lids to prevent food spoilage, and portable defibrillators, as well as helping establish worldwide guidelines for safe drinking water and consumer products.
One exceptional leader for UT was Dr. Arthur H. Black. He graduated from the department with a bachelor's degree in chemistry in 1941 and went on to enlist in the Navy, where he was an ensign assigned to the USS Kidd, a destroyer escort. He served in the Pacific from February 1943 to April 1945, when he was wounded in a kamikaze attack.
After being discharged in May 1946, Black returned to the University and became an instructor of chemistry. While at UT, he served in a host of positions, including dean of men from 1964 to 1968 and associate dean for the College of Arts and Sciences from 1968 to 1983. He was active in the UT Alumni Association and received the Blue T Award, an honor recognizing an individual's outstanding service to the University through committee and community involvement, and served as chair of the Golden Alumni Society for two years.
Even though he retired in 1983, Black continued to teach chemistry as a superannuate until 1990 and as a part-time instructor until 1996. He passed away in 2000. The department is working to establish an endowed professorship to honor his lifelong commitment to the UT community.
Featured speaker
Warner is the president and chief technology officer of the Warner Babcock Institute for Green Chemistry. His free, public presentation, "Green Chemistry: The Missing Elements," is set for Wednesday, Sept. 30, at 4 p.m. in Doermann Theater.
As president and chief technology officer of Warner Babcock Institute for Green Chemistry, Warner is one of the fathers of the green chemistry field — a relatively new area of study focusing on the design of chemical products and processes that reduce or eliminate the generation of hazardous substances. With Paul Anastas, he co-authored Green Chemistry: Theory and Practice.
Warner has published more than 200 patents, papers and books, and has numerous awards. His honors include being elected a Fellow of the American Chemical Society and being named one of 25 Visionaries Changing the World by Utne Reader in 2011.
He and Anastas also will give remarks at the Centennial Banquet Thursday, Oct. 1, at 5:30 p.m. in the Toledo Museum of Art's GlasSalon. The cost for attendees is $30 and $15 for students.
For more information about the celebration or banquet, contact Charlene Hansen at charlene.hansen@utoledo.edu.