Tribute to island life comes to UT for Homecoming
---
"Aloha Rockets!" will bring a bit of Hawaii to campus for UT's Homecoming.
"We want The University of Toledo community members to feel like they are in paradise as we celebrate the campus' oldest tradition," said Cassandra Wood, Homecoming director and fourth-year student majoring in middle childhood education. "Our goal is to include all students, faculty, administrators, alumni and community members in the island activities we have planned for Homecoming Week — even surfing during our Rocket Luau!"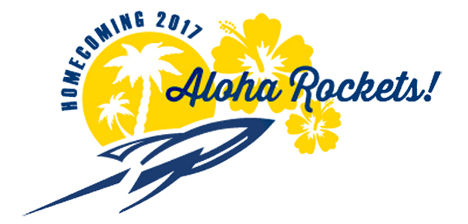 "We want to bring the Rocket Ohana together and have an awesome time," added Lily Kilpatrick, director of Homecoming programs and second-year student majoring in adolescent/young adult integrated social studies. "Ohana is the Hawaiian word for family, and Homecoming is a such a special time for all of us to come together and display our Rocket pride."
Hang loose and check out this year's Homecoming activities include:
Monday, Oct. 2
• Continental Breakfast, 11 a.m. to 4 p.m., Student Union South Dining Hall. Kick off the week with a Hawaiian breakfast. There'll be a variety of foods for everyone — and island tunes, too!
• Poolside Paradise, 7 to 10 p.m., Student Recreation Center. Float in the pool and watch "Lilo & Stitch." Want to see the movie and not swim? The film also will be shown in the Oak Room, where pizza and snacks will be provided. A complimentary PiYo class will be offered at 7 p.m., the rock-climbing wall will be open from 8 to 9 p.m., and those ultra-adventurous souls can try the High Ropes Course from 9 to 10 p.m.

Tuesday, Oct. 3
• "Eat the Street," 5 to 10 p.m., Residence Drive, which is located between Presidents Hall and Ottawa House. Come out for UT's version of Hawaii's monthly festival. Students, faculty, staff and alumni are welcome to the event for a variety of Hawaiian food that will be provided by local food trucks. Play beach volleyball, corn hole and other games, and have a cup of Kona ice.
Wednesday, Oct. 4
• Flags for Veterans, 11 a.m. to 3 p.m., Centennial Mall. There are more than 15,000 homeless people in Hawaii, and 8 percent of them are veterans. This philanthropic event will feature flags that can be purchased in honor of people who have fought for the United States to raise funds to help support them after their service is complete. All money collected will be donated to 1Matters, which helps homeless veterans in the Toledo area.
• Homecoming Royalty Pageant, 7 p.m., Thompson Student Ingman Room. Get to know the 2017 Homecoming king and queen candidates.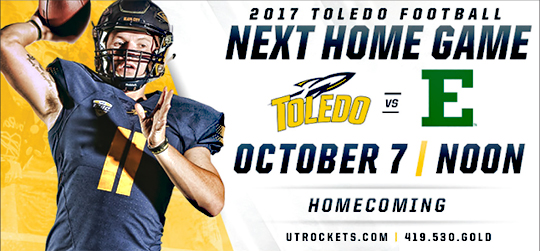 Thursday, Oct. 5
• Rocket Luau, noon to 2 p.m., Centennial Mall. Party island-style! Stop by for free food and fun activities.
• Pep Rally, 12:30 p.m., Thompson Student Union Steps. Join the football team, UT Marching Band, dance team, cheerleaders, Rocky and Rocksy to psych up for the Homecoming game.
• National Pan-Hellenic Council Talent Show, 8 p.m., Doermann Theatre. Doors will open at 7:30 p.m.
Friday, Oct. 6
• Bridge, 3:30 to 4:30 p.m., Horton International House Dining Hall. Volunteer to help make sandwiches for those in need in the area.
• Homecoming Alumni Gala and Awards Ceremony, 6 p.m., Thompson Student Union Auditorium. The Alumni Association will present this year's Gold T, Blue T and Edward H. Schmidt Young Alum Award, and college and affiliate award winners will be honored. There will be a Hawaiian-themed menu for the dinner. Tickets are $30 per person, $10 for children. For more information or to make a reservation, contact the UT Alumni Office at 419.530.ALUM (2586) or shirley.grzecki@utoledo.edu.

Saturday, Oct. 7
• The Edward C. and Helen G. Schmakel Homecoming Parade, 8 a.m. There is a different route for this year's parade, which is sponsored by Blue Key National Honor Society. The parade will begin at West Bancroft Street and Campus Road and go east to Cheltenham Road to Christie Street to Middlesex Drive and back to West Bancroft Street. The grand marshal for this year's parade will be former UT and NFL quarterback Bruce Gradkowski.
• Alumni Tailgate, 9 a.m., William and Carol Koester Alumni Pavilion. Stop by for free hot dogs, chips and non-alcoholic beverages. There will be a cash bar for those 21 and older with proper ID, and Five O'Clock Rush will play live music.
• Toledo Rockets vs. Eastern Michigan Eagles Homecoming Game, noon, Glass Bowl. Cheer on the Rockets and see the crowning of the Homecoming king and queen. Longtime faculty member Dr. Donald Wedding, associate professor in the College of Business and Innovation, will be recognized as an honorary Homecoming king for his service to the University. Tickets range from $33 to $68; $16.50 and $19 for children 12 and younger; half off for UT faculty and staff; and free for UT students with IDs. For tickets, go to utrockets.com or call 419.530.GOLD (4653). The game will be televised on CBS Sports Network.
For more information on Homecoming, go to utoledo.edu/homecoming.