Journalist to discuss censorship Oct. 6
---
The UT Banned Books Coalition will sponsor Jack Lessenberry's lecture, "Censorship and Self-Censorship: The Media in the Age of Trump," Friday, Oct. 6, at 7 p.m.
The free, public lecture in Carlson Library Room 1005 is part of the coalition's 20th anniversary. Last week, the coalition hosted the Banned Books Week Vigil.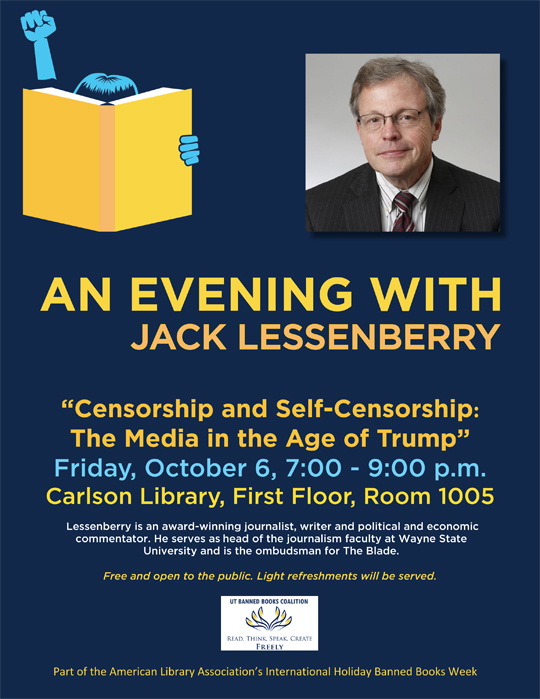 Lessenberry is an award-winning journalist, writer, and political and economic commentator. He serves as the head of the journalism faculty at Wayne State University and is the writing coach and ombudsman at The Blade. He is the senior news analyst at WUOM 91.7 FM, and he hosts the weekly television show "Deadline Now" on WGTE-TV Ch. 30 in Toledo.
"We believe that to mark our 20th anniversary of being able to think and read freely, we need to do something special," said Dr. Paulette D. Kilmer, UT professor of communication and coordinator of the UT Banned Books Coalition. "We are at a point in our history where we have to make choices about what we are going to believe, what we are going to accept, and what we are going to do to keep our country the land of the free."
This year's American Library Association's theme is words have power, and Lessenberry has shown this efficacy through his radio broadcasts and writing, Kilmer said.
"He makes us better journalists and better people because he calls us to defend all of our rights," Kilmer said. "We have tremendous respect for him as a champion of freedom of expression."
During his career, Lessenberry reported as a foreign correspondent from more than 40 countries for the The Detroit News, where he later served as national editor. In 2002, he was named Journalist of the Year by the Metropolitan Detroit Chapter of the Society of Professional Journalists.
Light refreshments will be served at the lecture.
Kilmer said this lecture would not be possible without help from generous sponsors: the dean of the College of Arts and Letters; the School of Disciplinary Studies; the Disability Studies Program; and the School of Law and Social Thought.