UToledo's Annual First-to-Launch First-Generation College Celebration Returns Nov. 3
---
In commemoration of the anniversary of the Higher Education Act of 1965, The University of Toledo will hold its fourth-annual celebration of first-generation students on Wednesday, Nov. 3.
The event begins with a panel discussion from 5:30 to 7:00 p.m. in the Thompson Student Union Ingman Room, featuring University faculty and staff who were the first in their family to go to college.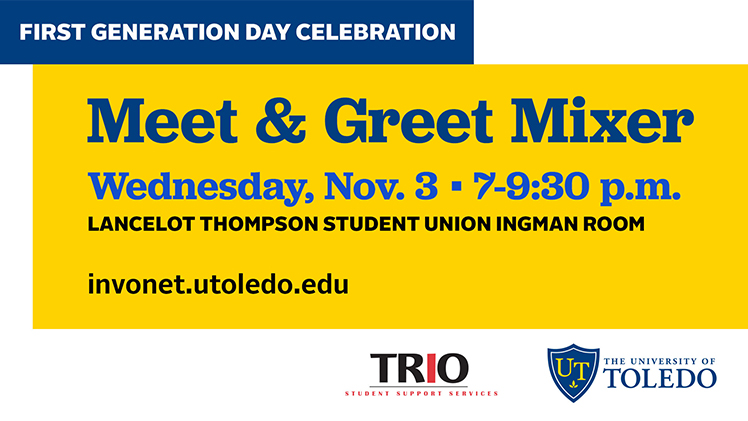 "The panel discussion is a wonderful opportunity for students to interact with UToledo faculty and staff who come from similar backgrounds as students," said Dr. Toycee Hague-Palmer, director of TRIO Student Support Services and chair of UToledo's First-to-Launch First-Generation Celebration Committee.
Following the discussion will be a meet-and-greet mixer from 7 to 9:30 p.m. Also, members of new student organization FirstGen Scholars will discuss what it means to be first-generation college students and why it's critical to have a space where first-generation students can connect and share experiences.
And as part of First-generation Week, the Northwest Ohio TRIO Programs Collaborative is hosting its Inaugural FirstGen Student Symposium from 11 a.m. to 1:30 p.m. Saturday, Nov. 6, at the Memorial Field House Room 2100.
Monday, Nov. 8, marks the 56th anniversary of the signing of the 1965 Higher Education Act (HEA), which began the start of the first three federal TRIO Programs: Upward Bound, Student Support Services and Talent Search. The HEA has since helped millions of first-generation, low-income students persist to degree completion. There are eight federal TRIO programs, and UToledo host three: TRIO Student Support Services, TRIO Upward Bound and TRIO Upward Bound Math and Science.
On Nov. 8, UToledo, along with college campuses nationwide, will recognize its first-generation students, faculty and staff throughout the day on social media platforms using #CelebrateFirstGen and #First2Launch.
Designed to increase campus and community awareness of first-generation students enrolled and thriving in higher education, this recognition is led by The Council for Opportunity for Education, in partnership with the Center for First-generation Student Success, an initiative of the National Association of Student Personnel Administrators and The Suder Foundation, which launched the inaugural First-Generation College Celebration in 2017.