Deep, athletic men's basketball squad ready to take flight
---
Toledo's first season under fourth-year Head Coach Tod Kowalczyk seems like an eternity ago when looking ahead to the Rockets' 2013-14 season.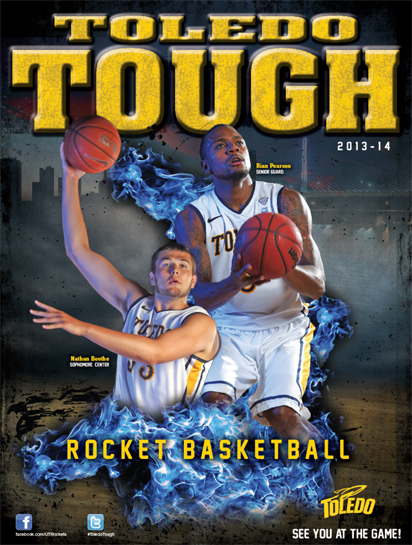 Since his hiring in 2010, Kowalczyk has transformed a UT program that was at the bottom of the Mid-American Conference to one of the favorites for the league title in what seems like the blink of an eye.

"I think we've come an awfully long way in three short years," said Kowalczyk, who also rebuilt Wisconsin-Green Bay's program in similar fashion. "We're at the point that we feel our goal should be to strive to win a league championship. I like the direction we're headed. I like the guys we have in the program. I think we certainly have some good young talent that can help us continue to build."

Kowalczyk's formula for success has relied on combining standout transfers such as two-time all-conference honoree guard Rian Pearson (Green Bay) with talented recruits like 2011-12 MAC Freshman of the Year guard Julius Brown and 2012-13 All-MAC Freshman Team member center Nathan Boothe.

This year, Toledo is adding two more transfers — guard Justin Drummond (Loyola University, Md.) and forward J.D. Weatherspoon (Ohio State) — to the mix as well as a talented freshman trio of center Zach Garber, guard Jordan Lauf and guard Jonathan Williams.

That influx of talent will give UT its deepest squad in recent memory and allow Kowalczyk to play a more up-tempo style.

Toledo received an early start to its upcoming season with an August trip to Greece that allowed the team extra practice time and a chance to build chemistry with its revamped roster.

"Our practices leading up to our trip to Greece were great," Kowalczyk said. "We were able to get a lot accomplished, and I think everybody involved in the program is moving forward in the right direction.

"Our players were able to bond in Greece and also received a tremendous cultural and educational experience."

UT was unable to participate in post-season play last year though due to poor Academic Progress Rate figures from previous coaching regimes. But that's all behind the Midnight Blue and Gold now as the scholarship and practice restrictions UT faced from the NCAA have been lifted.

"Last year was a different type of season to go through due to not being eligible for postseason play," Kowalczyk said. "I'm very, very proud that our guys never made excuses, and they never felt sorry for themselves.

"We've been severely penalized, had a lot of restraints, and none of our guys made excuses about it. We're very prideful we handled it the right way. We're proud that we have good guys that are doing things the right way academically."