Activist to Talk About Global War on Terror
---
Author, activist and policy analyst Phyllis Bennis will present the 19th Annual Maryse and Ramzy Mikhail Memorial Lecture Sunday, Nov. 16, at The University of Toledo.
She will discuss "Syria, Turkey, the Kurds, ISIS, and the New Global War on Terror" at 3 p.m. in the Law Center McQuade Auditorium.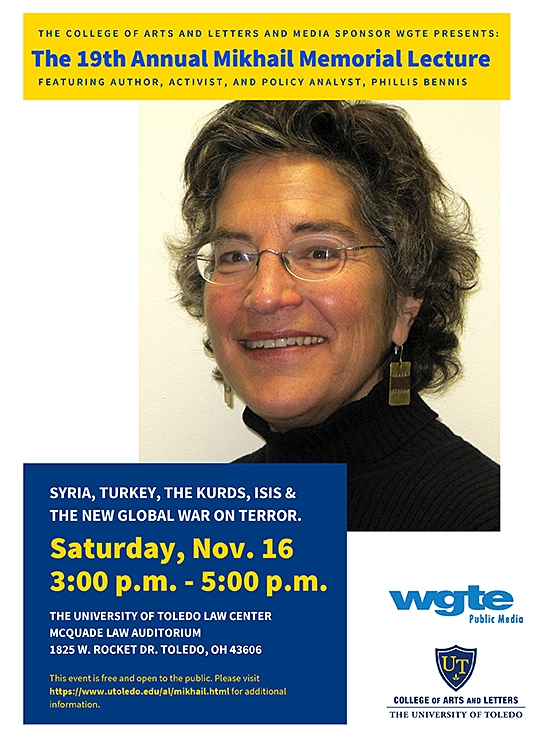 "We are honored to welcome Phyllis Bennis to campus to speak on such a timely topic," Kate Abu-Absi, outreach and retention specialist in the College of Arts and Letters, said. "She writes and speaks widely around the world on Middle East issues, including Palestine-Israel, Iran, Syria, Afghanistan, and U.S. foreign policy."
Bennis is a Fellow of the Institute for Policy Studies in Washington and of the Amsterdam-based Transnational Institute.
She is a co-founder of the U.S. Campaign for Palestinian Rights and the Iraq-era anti-war coalition United for Peace and Justice. She co-chaired the United Nations-based civil society International Coordinating Network on Palestine and serves on the national board of Jewish Voice for Peace.
Bennis' most recent books are "Understanding the Palestinian-Israeli Conflict: A Primer" and "Understanding ISIS and the New Global War on Terror: A Primer." She appears in the media, lectures at universities and teach-ins, and briefs parliamentarians and government officials.
She has served as an informal adviser to several top UN officials on Palestine issues, and was short-listed twice to become the UN special rapporteur on human rights in the occupied territory.
The free, public lecture has been held continuously at The University of Toledo since 2001, and is co-sponsored this year by the College of Arts and Letters, with WGTE as the media sponsor.
The Mikhail Lecture Series is sponsored through the Mikhail Endowment Fund, originally established through a donation from the Mikhail family to honor the work and contributions of Maryse Mikhail and her involvement in educational, philanthropic and interfaith organizations.
The fund supports an annual lecture dealing with Arab culture, history, politics, economics and other aspects of life in the Middle East, including issues of peace and justice.
More information about the event is available on the Maryse and Ramzy Mikhail Memorial Lecture website.
Those who wish to make a tax-deductible contribution to the fund can go to the UT Foundation website.