UT Opera Ensemble to present 'Così Fan Tutte' this weekend
---
The UT Opera Ensemble will present Mozart's comic Italian opera, "Così Fan Tutte" ("Women Are Like That") with a modern country-western twist. Set in a country bar, a friend of two young men bets them that their girlfriends would be unfaithful if left unattended. So, the men take the bet and put their ladies to the test.
The opera will be sung in the original Italian, with subtitles provided.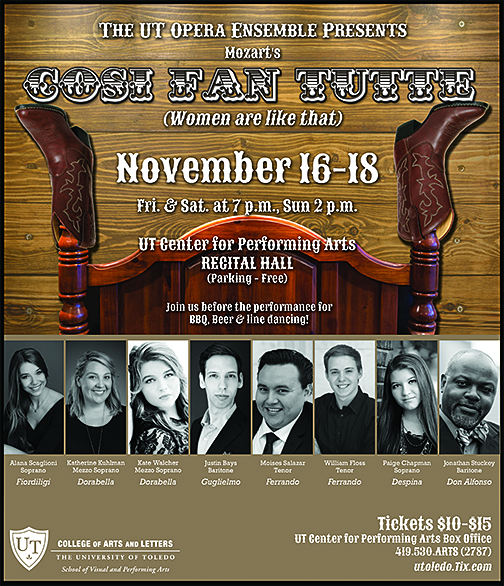 Be there before the performance for barbecue, beer and free line dancing lessons. Beer is cash bar, and the barbecue will be sold by Deet's BBQ.
Performances will take place Friday through Sunday, Nov. 16-18, in the UT Center for Performing Arts Recital Hall. Friday and Saturday performances will be at 7 p.m., and Sunday's show will be at 2 p.m.
Cast members are UT student Alana Scaglioni, soprano, as Fiordiligi; UT alumna Katherine Kuhlman and UT student Kate Walcher, mezzo-sopranos, as Dorabella; UT Music Instructor Justin Bays, baritone, as Guglielmo; UT student Moises Salazar and UT alumnus William Floss, tenors, as Ferrando; UT student Paige Chapman, soprano, as Despina; Jonathan Stuckey, bass baritone, as Don Alfonso; and UT students Kaitlyn Trumbul, Kailyn Wilson, Sterling Wisenewski and Jasmin Davis as the chorus.
Dr. Denise Ritter Bernardini, UT assistant professor of music, is producing and directing the show. Wayne Anthony is the music director, and Scaglioni is the assistant director. Kent Lautzenheiser-Nash is the choreographer.
Tickets $10 to $15 are available through the Center for Performing Arts Box Office by calling 419.530.ARTS (2787), online at the School for Visual and Performing Arts website, and at the door.
For more information, visit the UT Department of Music opera page.