MLK Unity Celebration to kick off Week of Service to honor civil rights leader
---
The 2017 Dr. Martin Luther King Jr. Unity Celebration will kick off a Week of Service for students at The University of Toledo.
Students, families and leaders in the Toledo community will gather at UT on the holiday for the annual Unity Celebration and then spread out throughout the city to honor King's passion to help others.
The theme of the 16th annual event on Monday, Jan. 16, is "Reconciliation Through Service: Education, Social Justice and Religion," named in honor of the three pillars that defined the philosophy of the civil rights leader who created a nonviolent social movement that changed the course of American history.
The free, public Unity Celebration will take place at 9 a.m. in Savage Arena on the UT Main Campus. A free community luncheon will follow the ceremony.
The keynote speaker will be Donzaleigh Abernathy, award-winning actress and daughter of civil rights icon Ralph David Abernathy. She published a book about the friendship between her parents and the Kings titled "Partners to History: Martin Luther King Jr., Ralph David Abernathy, and the Civil Rights Movement."
The Unity Celebration will feature performances by the Scott High School marching band, UT gospel choir, UT Fire Squad dance team, and students from the Toledo School for the Arts, as well as recognition of MLK Scholarship recipients and African-American Leadership Council of United Way Scholarship Award winners.
Throughout the week, UT students will volunteer at local agencies, including the Friendly Center, Padua Center and J. Frank Troy Senior Center.
In addition, UT is partnering with the United Way of Greater Toledo and other local colleges and universities for service activities throughout the month.
"We are proud to commemorate the life and legacy of Dr. King by working together and helping serve others," UT President Sharon L. Gaber said. "Selfless acts of generosity combined with conversations about issues that in the past have kept us separate will allow us to celebrate our differences."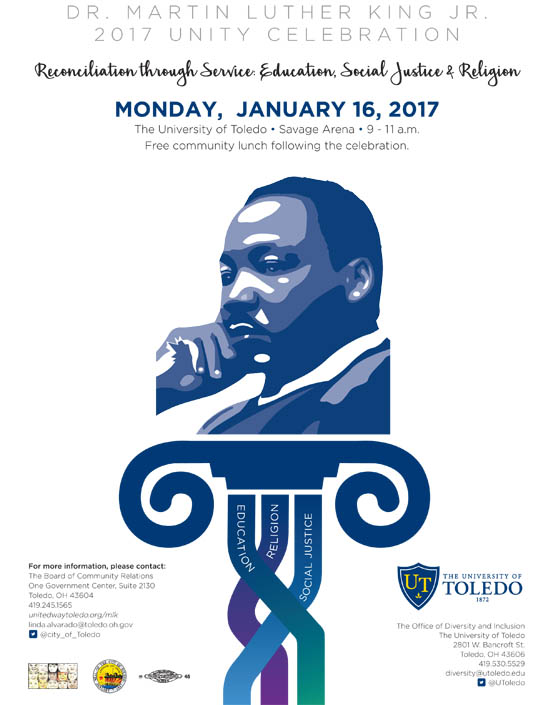 "Through meaningful work and 'Reconciliation Through Service: Education, Social Justice and Religion,' we can make real our celebration of Dr. King's life in 2017 and beyond as we strive as individuals and as a city to define ourselves by these peaceful and powerful activities," Toledo Mayor Paula Hicks-Hudson said.
Several events are scheduled at UT throughout the week, starting with Cost of Poverty Experience training sponsored by the United Way of Greater Toledo. The two-hour event will guide students through a role-playing simulation to give them a glimpse into the lives of low-income individuals and families in this region. The free, public session will be held Wednesday, Jan. 18, from 3 to 5 p.m. in Thompson Student Union Rooms 2582 and 2584.
UT will show a documentary about the emergence of King titled "Eyes on the Prize: No Easy Walk" Tuesday, Jan. 17, at 6 p.m. in Doermann Theater. The screening will be followed by a discussion. The free, public event is sponsored by the UT Office for Diversity and Inclusion.
The UT Epsilon Alpha chapter of the Alpha Phi Alpha fraternity is sponsoring a showing of "Alpha Man: The Brotherhood of MLK" Wednesday, Jan. 18, at 6 p.m. in Student Union Room 2592. The documentary tells the story of King's fraternity days as a member of Alpha Phi Alpha.
Students also are invited to UT's Driscoll Alumni Center Auditorium, where Dr. Cornel West's speech at Bowling Green State University will be streamed live Thursday, Jan. 19, at 6:30 p.m. West is a social activist, Princeton University professor and author of the book "Race Matters."
The Unity Celebration is organized by a committee with co-chairs Dr. Willie McKether, UT vice president for diversity and inclusion; Linda Alvarado, executive director of the Board of Community Relations for the city of Toledo; and Pastor Christopher Rowell.
For more information, contact the UT Office for Diversity and Inclusion at diversity@utoledo.edu.