Virtual MLK Unity Day Celebration to Honor Civil Rights Leader
---
The University of Toledo and city of Toledo will recognize Dr. Martin Luther King Jr. Day with a virtual celebration honoring the civil rights leader.
The 20th annual Unity Day Celebration will be held virtually beginning at 10 a.m. Monday, Jan. 18. The event, co-sponsored by UToledo, the city of Toledo and the Human Relations Commission, will be livestreamed at utoledo.edu/mlk.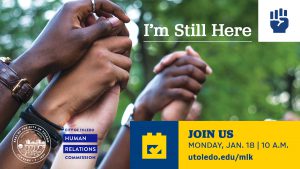 To help honor the life, legacy and messages of Dr. King, writer and activist Austin Channing Brown will serve as the keynote speaker, with remarks by UToledo Interim President Gregory Postel, Toledo Mayor Wade Kapszukiewicz and U.S. Rep. Marcy Kaptur.
Author of "I'm Still Here: Black Dignity in a World Made for Whiteness," Brown has worked to highlight the ongoing realities of race in the 21st century and the everyday actions that allow racism to survive.
"Austin Channing Brown is a powerful echo of Dr. King's call for inclusivity and equity for all," said Malaika Bell, director of diversity and inclusion at UToledo. "And her activism speaks not just about those social and racial inequalities that yet remain, but how we can work together to resolve them."
The virtual event also will include performances by the Toledo Opera's mezzo soprano Olivia Johnson, as well as Toledo-area spoken word artists and dancers, and community members reciting Dr. King's "I Have A Dream" speech.
Buckeye Broadband will rebroadcast the event that same day beginning at 8 p.m. on its BCAN channel.