Virtual MLK Unity Day Celebration to Honor Civil Rights Leader
---
The University of Toledo and city of Toledo will recognize Dr. Martin Luther King Jr. Day with a virtual celebration honoring the civil rights leader.
The 21st annual Unity Day Celebration will be held virtually beginning at 10 a.m. Monday, Jan. 17. The event, co-sponsored by UToledo, the city of Toledo and the Human Relations Commission, will be livestreamed at utoledo.edu/mlk.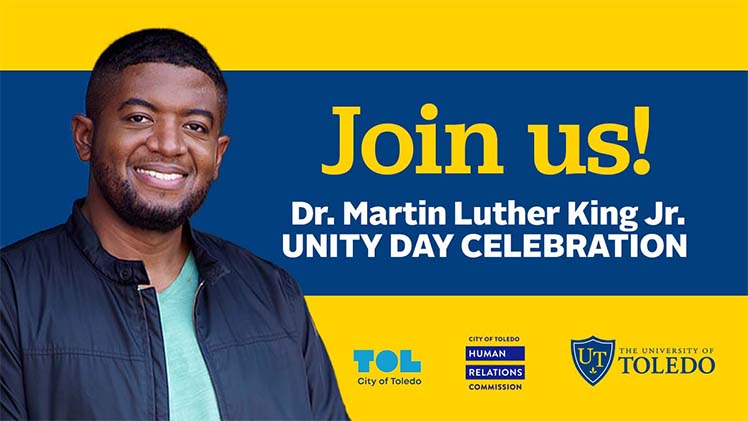 To help honor the life, legacy and messages of Dr. King, critically acclaimed producer and activist Andre Gaines will deliver the keynote speech.
A graduate of the renowned Tisch School of the Arts at New York University, Gaines has produced award-winning work across film genres, and his production company, Cinemation Studios, works with up-and-coming filmmakers across media to bring their voices and perspectives to the forefront of the film industry.
Gaines, who lives with his wife and children in Los Angeles, will highlight the importance of everyday activism and touch on the unique value of Black voices in today's global conversation.
"This annual event should serve as an opportunity for us all to hit the pause button, to reflect. Reflect on who we are, on what we believe and on how we move through the world," said Malaika Bell, interim executive director of the Office of Diversity, Equity and Inclusion. "The 21st annual Dr. Martin Luther King, Jr. Unity Day Celebration will assist the Toledo community in taking these steps. The conversation with our keynote speaker will highlight myriad ways that we each can be everyday activists."
UToledo President Gregory Postel and Toledo Mayor Wade Kapszukiewicz also will be among the speakers at the virtual event, which will include performances by MADD Poets Society, Toledo Opera's mezzo soprano Olivia Johnson and soprano Ivana Butler, and the Scott High School Choir and UToledo F.I.R.E Squad Dance Team.
Buckeye Broadband will rebroadcast the event that same day beginning at 8 p.m. on its BCAN channel.