Virtual MLK Unity Day Celebration to Honor Civil Rights Leader
---
The University of Toledo and the city of Toledo will recognize Dr. Martin Luther King Jr. Day with a virtual celebration honoring the civil rights leader.
The 22nd annual Unity Day Celebration will be held virtually beginning at 10 a.m. Monday, Jan. 16. The event, co-sponsored by UToledo, the city of Toledo and the Human Relations Commission, will be livestreamed through the UToledo MLK Unity Day website.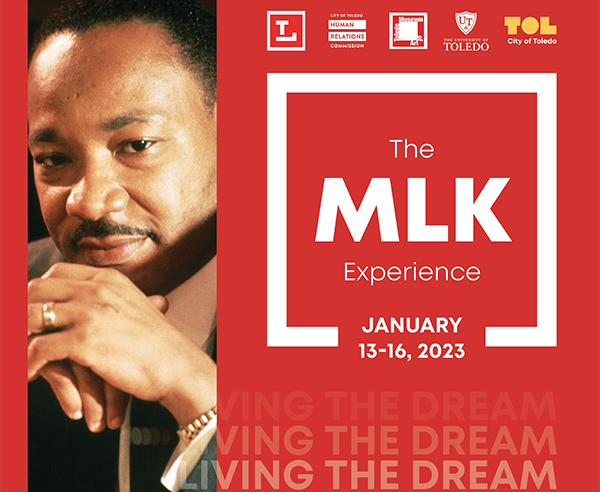 To help honor the life, legacy and messages of Dr. King, Chuck Ealey and Bree Newsome will deliver keynote conversations based on the theme "Living the Dream."
Ealey, a UToledo graduate and American and Canadian football player, will join his daughter Jael Ealey Richardson in a discussion about what it means to "live the dream" to kickoff the event, followed by Newsome, an American filmmaker, musician and activist, who will discuss activism with Dr. Monita Mungo, an assistant professor of sociology at UToledo.
UToledo President Gregory Postel and Toledo Mayor Wade Kapszukiewicz also will be among the speakers at the virtual event, which will include performances by Thaddaeus Washington playing "Lift Every Voice" on the electric guitar; African drumming by J.P. Dynasty; the Toledo Opera; an original spoken word piece by Davion Desean; the My5tery Music Band and more.
"Inspirational speakers, African dancers, prolific poets and gospel music are all ways we will celebrate and commemorate the life of Dr. Martin Luther King Jr.," said Valerie Simmons-Walston, special assistant to the president for community engagement and strategic partnerships, who served on the planning committee.
"It is an honor to be part of the planning committee created to engage such a broad spectrum of our community."
Simmons-Walston offered special thanks to Malaika Bell, director of the Office of Diversity, Equity and Inclusion, for requesting that the Office of Community Engagement partner on this year's annual event planning alongside DEI and the Office of Multicultural Student Success along with the mayor's office and the Human Relations Commission.
"Malaika serves as one of the many 'behind-the-scenes architects,' ensuring the success of this event. Collaborative projects hold greater significance, especially when they are grounded in unity, creativity and social justice. I believe events like this serve to strengthen our community and to make Toledo a better place."
For more information including other planned MLK events, visit the city of Toledo's MLK Day website.