Campus Stage Presentation of 'Letters From Anne and Martin' Scheduled Jan. 19
---
The Office of Diversity, Equity and Inclusion is bringing a free, live production of "Letters From Anne and Martin" to The University of Toledo Thursday, Jan. 19.
"Letters from Anne and Martin" is a stage drama that combines the iconic voices of Anne Frank and Martin Luther King Jr., both of whom were born in 1929 yet seemingly represent drastically different times and cultures.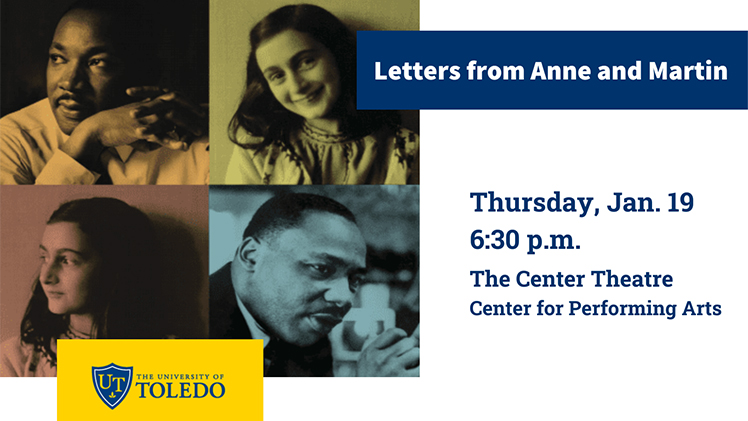 Developed from excerpts from "Anne Frank: The Diary of a Young Girl "and Dr. King's "Letter from a Birmingham Jail," the play evokes the important messages from these legendary figures, as they write of their hopes and plans for a peaceful and unified world.
"Performed by actors from the Anne Frank Center for Mutual Respect, this live dramatic performance features professional actors who bring to life the courage and eloquence of Anne's and Martin's thoughts and promotes constructive ideas on how to confront modern-day antisemitism and discrimination via a discussion after the performance," said Dr. Dilip Das, vice president for diversity, equity and inclusion.
The production begins at 6:30 p.m. in the Center Theatre in the Center for Performing Arts. Parking is free in Area 12.
For more information, visit the DEI homepage.