Nationally renowned educator to speak Jan. 26 on Scott Park Campus
---
The University of Toledo will host one of the country's foremost experts in teaching education during a free "Diverse Teachers Matter" program Thursday, Jan. 26.
Dr. Gloria Ladson-Billings, premier pedagogical theorist and renowned teacher educator, will discuss the impact diverse teachers have on student populations, as well as the community's importance in supporting teachers and contributing to increasing diversity in education.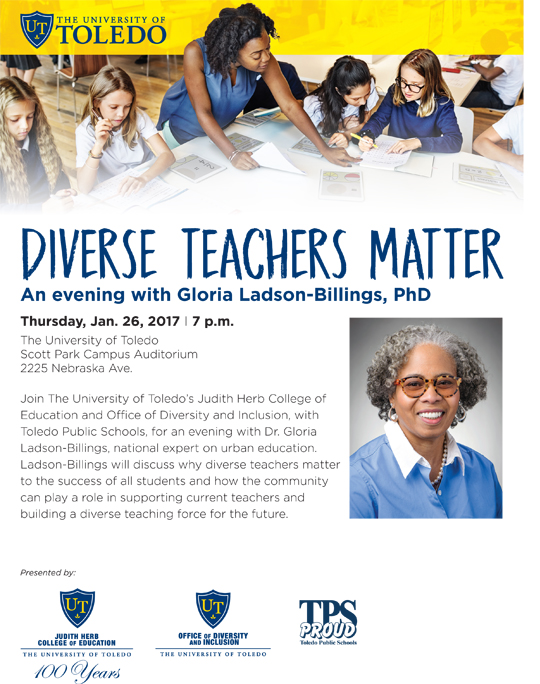 The public program will begin at 7 p.m. in the Scott Park Campus Auditorium.
"You would be hard-pressed to find a more important educator in the U.S. today," said Dr. Lynne Hamer, professor in the Judith Herb College of Education's Educational Theory and Social Foundations Program and coordinator of Teach Toledo, the college's degree program created to attract a diverse pool of students into higher education. "She has focused attention on the importance of explicit attention to racial and ethnic diversity, most importantly bringing 'critical race theory,' a theory developed in legal studies, into use in education. She also developed the concept of 'culturally relevant pedagogy,' introducing it in 1995 and continually applying it to modern teaching methodology."
Ladson-Billings is the Kellner Family Distinguished Chair in Urban Education at the University of Wisconsin-Madison. In December, she was elected to a four-year term as president of the National Academy of Education, which supports research for the advancement of education policy and practice. According to its website, members are invited from "a very select group of education experts from all over the world."
Ladson-Billings is a 10-year member of the academy.
She also is past president of the American Educational Research Association and winner of the Brock International Prize in Education (2012), a monetary award honoring outstanding scholarship and research in education.
In January, Education Week's "Straight Up" blogger Rick Hess named her the third most influential education scholar in the U.S.
Ladson-Billings' book, "The Dreamkeepers: Successful Teachers of African-American Children," was published in 1994 to high praise from the national education community. The narrative followed eight successful educators in primarily African-American environments. A second book updating the lives and careers of the "Dreamkeepers" was published in 2009.
"Anyone concerned about the equity and quality in schools" is welcome to attend the event, Hamer said. "For education to be an equitable system, and for students to have a quality education that prepares them as citizens in a diverse society, teachers need to mirror the larger population in terms of diversity."
"Diverse Teachers Matter" is sponsored by the Judith Herb College of Education, UT's Office of Diversity and Inclusion, and Toledo Public Schools. It is one of several events offered by the College of Education to commemorate its 100th year.
For more information, email lynne.hamer@utoledo.edu or call 419.530.6126.