University announces 2013 Class for Varsity 'T' Hall of Fame
---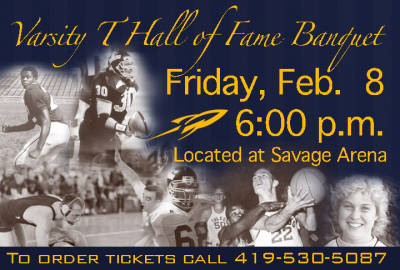 Six former student-athletes will be inducted into The University of Toledo Varsity 'T' Hall of Fame Friday, Feb. 8 in Savage Arena.
Social hour for the event will begin at 6 p.m. and dinner will follow at 7 p.m.
The Varsity 'T' Hall of Fame also will present the Distinguished Service Award to longtime team physician Dr. Roger Kruse, clinical assistant professor of family medicine, and posthumously to John Stoepler, who served as dean of the UT College of Law from 1983 to 1990 and was a faculty athletics representative.
Tickets for the induction dinner are $40 and can be purchased by calling the Athletic Development Office at 419.530.5347.
The 2013 Varsity 'T' Hall of Fame inductees are:
Jim Harding, Football, 1997-2000. A four-year starter at tackle, Harding was a team captain and a first-team All-Mid-American Conference selection as a senior in 2000. He was part of three MAC West Championships in which he started 46 consecutive games (every game of his career) for the Rockets and blocked for UT's all-time leading rusher Chester Taylor. A UT Academic Honor Roll student in 1999 and 2000, Harding was awarded Academic All-MAC honors in 1998 and 1999. As a senior, he received the Jim Nicholson Award, which is given to the athlete who makes the greatest contribution to the team. Currently, Harding is the offensive line coach at the University of Wyoming.
Kelly Meinhart, Softball, 1985-1988. Meinhart was named first-team All-MAC as a catcher in 1987 and as a designated hitter in 1988, as well as first-team All-Region in 1988. She was a member of the Rocket squad that won the MAC Championship in 1985 and earned second place in the MAC in 1986 and 1987. Meinhart holds the school record for triples in a season (eight in 1985, four more than the second-place holder) and triples in a career (13, five more than the No. 2 hitter). She ranks fifth all-time with 81 RBI and third in at-bats (678).
Robert "Bob" Pawlak, Men's Basketball, 1958-1961. A three-time letterwinner, Pawlak was the point guard on outstanding teams from 1958 to 1961 that were a combined 44-27 (just 23-46 in the three years previous to his arrival). He averaged 9.8 points per contest, shooting 41 percent from the floor and 76 percent from the line in his career. He averaged 11.7 points as a sophomore, 7.9 points as a junior, and 9.5 points as a senior. He shot an impressive 46 percent from the field as a senior, mostly from long range. No assist statistics were kept in those days, but by all accounts he was one of the leaders in the MAC. Pawlak helped the Rockets finish in second place in the MAC in both his junior and senior seasons, and led UT to victories over some big names in college basketball at the time: Loyola of Chicago, Duquesne, Dayton, Virginia Tech, Wake Forest, Utah State, Detroit, Xavier and Villanova. A fine overall athlete, Pawlak also lettered in baseball in 1960. After graduation, he was drafted by the Cleveland Pipers of the American Basketball Association, and eventually ended up playing alongside the Harlem Globetrotters for two seasons with the opponent team, the Washington Generals. His love for sports spilled over into the running world as he competed in 13 marathons, including the Boston Marathon three times. He coached high school basketball for 25 years, served seven years as an athletic director at Start High School, and retired in 2006 after 38 years of teaching.
Pat Reilly, Wrestling, 1960-1963. Reilly was a MAC Champion in 1962 and 1963, leading the Rockets to league titles both years. From 1961 to 1963, Reilly lost only eight matches. He qualified for the NCAA Championships in 1961, 1962 and 1963, helping UT knock off top seed Oklahoma State in the 1963 tourney. As a sophomore in 1961 wrestling at 147 pounds, Reilly went 17-3 and took second place at the MAC Championship Meet. As a junior, he went 20-2 and won the MAC title. As a senior captain, Reilly finished with a 25-3 mark, taking another MAC title and placing second at the Olympic Regional trials, qualifying to attend the U.S. Olympic Training Camp. After a stint as a graduate assistant coach at UT under Coach Joe Scalzo from 1965 to 1969, Reilly went on to coach wrestling at Cardinal Stritch High School. He is a member of the Hall of Fame at Toledo Central Catholic as a wrestler and football player, and at Cardinal Stritch as a coach. He earned his bachelor's and master's degrees in education from UT.
John Wesley Saunders, Football 1969-1971 and Men's Basketball 1970-1971. Saunders was a three-year starter for a 35-0 Rocket team with the top defense in the nation. Saunders was selected as an All-MAC safety in 1971. He also played basketball in the 1970-71 season under Coach Bobby Nichols. He later was selected to play in the 1972 All-American Bowl. Saunders was a fourth-round draft pick by the Los Angeles Rams in 1972. He later played with the 49ers, Bills and Lions. Saunders died of a heart attack in 2001.
Tom Ward, Football, 1999-2002. Ward was a three-year starter at middle linebacker for the Rockets and was team captain in 2002. He earned first-team All-MAC honors as a senior and won the Jim Nicholson Award (team MVP). Ward is ninth all-time in career tackles/sacks (403) and 10th all-time in tackles a season (180 in 2002). He led the team in tackles in 2001 and 2002 and twice had 22 tackles in a game, against UNLV and Ball State in 2002. He played on teams that won or shared three MAC West Division titles, won the MAC Championship in 2001, earned back-to-back trips to the Motor City Bowl in 2001 and 2002, and compiled a record of 35-13.