Activist to give keynote address for Black History Month
---
Dr. Angela Davis, an activist, scholar and author, will speak at The University of Toledo's Black History Month Kickoff Luncheon Saturday, Feb. 4, at noon in the Thompson Student Union Auditorium.
Her talk is titled "The State of Black America: Views From a Political Activist."
Born in Birmingham, Ala., Davis and her family lived in the "Dynamite Hill" area, where she witnessed the bombings of African-American homes in the middle-class neighborhood. A prominent civil rights activist since the 1960s, Davis has been involved with the Black Panther Party and the Communist Party USA.
She is a Distinguished Professor Emerita of History of Consciousness at the University of California at Santa Cruz, where she also led the Feminist Studies Department. Davis is a founding member of Critical Resistance, a national organization dedicated to dismantling the industrial prison complex, and an affiliate of Sisters Inside, an abolitionist organization based in Australia that works in solidarity with women in prison.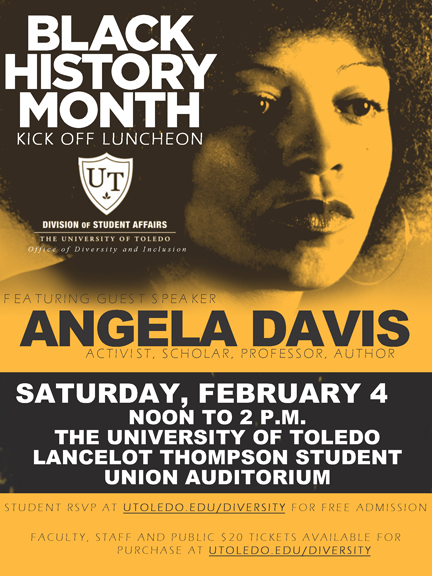 Her books include "Women, Race and Class," "If They Come in the Morning (Radical Thinkers)," "Are Prisons Obsolete?" and "Angela Davis: An Autobiography."
"Dr. Angela Davis will urge the audience to seriously think about the changes that have occurred from the 1960s to the present with regard to rights, activism, and social and cultural change as it relates to African Americans," Dr. Kaye Patten, senior vice president for student affairs, said.
"We are proud to welcome Dr. Davis, who has always been an advocate for positive change. To be able to hear her personal stories will be an incredible honor," Dr. Willie McKether, vice president for diversity and inclusion, said.
In addition to Davis' talk, the UT Gospel Choir will perform at the luncheon.
A limited number of $20 tickets are still available for the event, which is free for UT students who RSVP. To purchase tickets or RSVP, go to utoledo.edu/diversity.
The event will be streamed live in the Thompson Student Union Ingman Room.
The luncheon is presented by the UT Division of Student Affairs, the UT Office of Diversity and Inclusion, the Toledo chapter of the Links Inc., and the Study Hour Club.
Listed by date, other events that will take place at the University in honor of Black History Month will include:
• Wednesday, Feb. 8 — "Real Talk: Mental Health in the Black Community" at 6:30 p.m. in Thompson Student Union Room 2500. Sponsored by the UT Office of Multicultural Student Success, the free, public event will be facilitated by Dr. Steven Kniffley Jr., assistant professor in the School of Professional Psychology at Wright State University in Dayton, Ohio. He is the author of the book, "Knowledge of Self: Understanding the Mind of the Black Male."
• Thursday, Feb. 16 — Dr. Damon Tweedy will discuss race and health disparities at 7 p.m. in Collier Building Room 1200 on UT's Health Science Campus. He is an assistant professor of psychiatry at Duke University Medical Center and a staff physician at the Durham Veteran Affairs Medical Center. His articles on race and medicine have been published by The New York Times, Chicago Tribune and The Washington Post, as well as by several medical journals. His free, public talk is sponsored by We Are STEMM, a UT student organization dedicated to empowering peers from underrepresented populations who are interested in science, technology, engineering, math and medicine.
• Friday, Feb. 24 — The Black Student Union 48th Annual Fashion Show at 6 p.m. in the Thompson Student Union Auditorium. This year's theme is "All Around the World." The show will feature fashion from countries around the globe, particularly places represented by UT students. Tickets can be purchased at the Ask Rocky counter in the Thompson Student Union or at the door. All proceeds will go toward scholarships to support African-American students.
For more information on UT's events for Black History Month, contact David Young, director of the Toledo Excel Program, at david.young@utoledo.edu or 419.530.3815.