UT selected as one of six partners in U.S. to join first research network on misdemeanor justice
---
The University of Toledo has been selected to join a new national research network to study trends in low-level crimes to inform smarter criminal justice policies that enhance public safety, increase public trust in police, and save tax dollars.
The Research Network on Misdemeanor Justice is run by the John Jay College of Criminal Justice in New York and funded by a $3.25 million grant from the Laura and John Arnold Foundation.
The John Jay College of Criminal Justice began focusing on misdemeanors in New York City years ago and is expanding the study's scope to include six other cities. UT received a three-year, $169,000 grant to analyze local data and work with research institutions throughout the country.
In addition to Toledo, joining the new national alliance with New York City are Los Angeles, Seattle, St. Louis, Durham, N.C., and Prince Georges County in Maryland for a total of seven jurisdictions throughout the country working together.
"The University of Toledo is proud to be a part of this pioneering national project to inform policy discussions and reform because misdemeanors are the bulk of what police officers deal with every day, but there is not much research on it," said Dr. David Lilley, assistant professor of criminal justice and the research director of the misdemeanor justice project at UT. "The vast majority of arrests are low-level offenses that carry a maximum sentence of up to one year in jail, such as drug possession, petty theft, simple assault and driving on a suspended license."
Misdemeanors accounted for approximately 90 percent of total arrests by Toledo police officers in 2015 when there were 22,463 misdemeanor arrests and 2,296 felony arrests.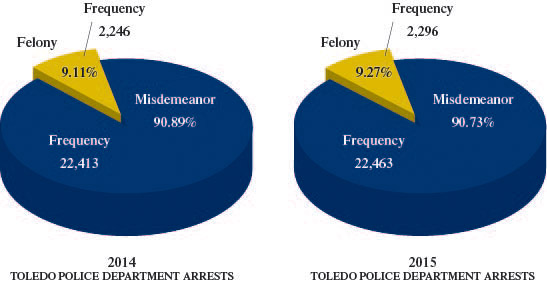 "Misdemeanors are the lion's share of the charges that we usually bring against suspects," Toledo Police Chief George Kral said. "I'm hoping this study gives us more ideas on what works and what doesn't work. That valuable intelligence will help me change policy, if necessary, to make the whole process more efficient, keep the community safe, and give defendants the help they need. If we could nip it in the bud at the misdemeanor level, we could stop someone from escalating to felonies in the future."
Toledo was chosen as part of the misdemeanor study out of 39 that applied, in part, because of the collaborations UT researchers already have with local law enforcement and the ongoing criminal justice reform efforts underway in Lucas County.
"We are one of the smallest cities on the list, but one of the factors that puts us ahead of the curve is that we have been doing this type of data analysis at UT for years by working with the Toledo Police Department," said Dr. Kasey Tucker-Gail, associate professor of criminal justice, director of the Urban Policing and Crime Analysis Initiative, and principal investigator for the misdemeanor justice research project at UT. "TPD's advanced data system is one of the best. Being chosen for John Jay College's misdemeanor project is an honor that rewards our teamwork."
UT researchers say many police agencies across the country do not know how many misdemeanor arrests result in incarceration.
"Part of what we're doing is taking a close look at the outcomes and conduct cross-site analyses to figure out how to increase efficiency and effectiveness," Lilley said. "Are people ending up in jail? Fined? Are charges dropped because the system is overburdened or there is not enough evidence? Are suspects going through a diversion program, such as drug court? Our research alliance will examine trends and outcomes of misdemeanor arrests, summonses, pedestrian stops and pre-trial detention at the local level."
The University of Toledo will work with the Toledo Police Department, Northern Ohio Regional Information Systems and the Toledo-Lucas County Criminal Justice Coordinating Council as part of the project.
"Hopefully, this research will help guide new alternatives for individuals that may need help instead of punishment," said Holly Matthews, attorney and executive director of the Toledo-Lucas County Criminal Justice Coordinating Council. "We're working on reducing our jail population by 18 percent. This misdemeanor project is going to help show the trends over the last three or four years — especially with the opioid epidemic — that we're seeing locally. We have already been working proactively with the Lucas County Mental Health and Recovery Services Board to address other options besides incarceration for individuals with mental health and substance abuse issues."
Research partners for the Misdemeanor Justice Project also include the University of California in Los Angeles, North Carolina Central University, Seattle University, the University of Maryland and the University of Missouri in St. Louis.
"To see the work of the Misdemeanor Justice Project expand from New York City to six other jurisdictions is very exciting," said Dr. Preeti Chauhan, assistant professor of psychology at John Jay College and principal investigator of the research network. "We are looking forward to replicating the New York model to these sites and believe the results will guide smarter criminal justice reform."
"The network has generated an outpouring of academic and government interest in pioneering a national conversation around enforcement of lower-level crimes — something that leads a large number of individuals to enter our justice system," said Matt Alsdorf, vice president of criminal justice for the Laura and John Arnold Foundation. "We are proud of the diverse U.S. cities leading this conversation, and we look forward to learning how the research partnerships inform local and national justice policies for the long term."