National Security Issues Topic of Feb. 19 Virtual Law Review Symposium
---
A global pandemic, a divisive U.S. election, mass protests, Middle East conflicts and cyber warfare pose dire threats to our national security. The University of Toledo Law Review is hosting a virtual symposium to discuss critical national security challenges.
Titled "Emerging National Security Issues in 2020 and Beyond," the symposium will be conducted online as a free, live webinar Friday, Feb. 19, from 9 a.m. to 3:45 p.m.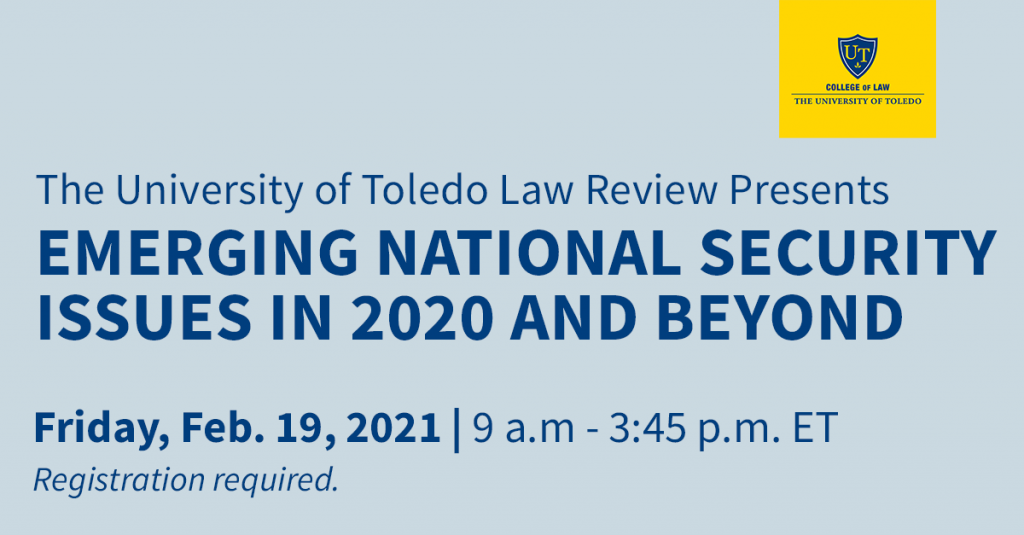 The symposium features the nation's top experts on constitutional law, public policy, national security, counterterrorism, cybersecurity and defense intelligence. The panelists will explore the origins of national security law, how it has transformed following traumatic events such as 9/11, how it has developed in the world of cybersecurity and what threats we've seen as a result of the COVID-19 pandemic.
"Top experts in the field of constitutional law and national security will discuss how our government can keep us safe while maintaining our individual rights and other constitutional values," said Rebecca Zietlow, Charles W. Fornoff Professor of Law.
This event is open to the public. Attendees must register by Feb. 17.
The symposium is approved by the Ohio Supreme Court Commission on Continuing Legal Education for 5.0 hours of CLE credit as a live interactive webinar.
To learn more about the symposium and to register, visit the College of Law's event webpage.