UToledo Social Work Associate Professor to Receive Inaugural Alice Skeens Teaching Award
---
The University of Toledo Athletic Department will honor Dr. Michael Prior, an associate professor of social work, as the inaugural recipient of the Alice Skeens Teaching Award.
Nominations for the award came from UToledo student-athletes. The winner was then selected by the UToledo Athletic Committee. Dr. Prior will be recognized and presented with a plaque at halftime of the women's basketball game against Northern Illinois on Wednesday, March 2.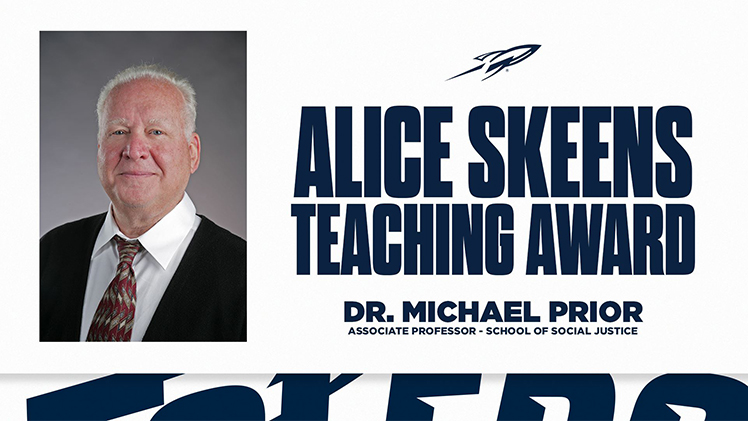 "I am humbled," Prior said. "I don't think that I did anything special. I am very appreciative of someone thinking that I did a good job. I will say, though, that the athletes who I have worked with have been gifted, hard-working young people. And the athletic staff who I have worked with in serving student-athletes are very dedicated and wonderful to partner with."
Prior has been employed at UToledo since 2006, serving as an associate professor. He has been a member of the National Association of Social Workers, the Council on Social Work Education, and the Society for Spirituality and Social Work.
He has more than 16 years of direct practice and administrative experience in the mental health field, where his main area of practice has been with adolescents and families, especially those with chemical dependency issues. Prior's areas of study and personal interest center on spirituality, treatment of the effects of child abuse and fighting racial inequality.
Prior earned a bachelor of arts degree in political science from Eastern Michigan University and both his master's and doctor of philosophy in social work from the University of Texas at Arlington.
The award is named in honor of the late Dr. Alice H. Skeens (1936-2011), who was a member of The University of Toledo faculty for nearly five decades. She first came to Toledo in 1960 as a teaching assistant before being appointed to a full-time instructor in the former Teaching College in 1930.
Skeens served the University in many capacities, such as associate dean in Arts and Sciences, assistant to three presidents, a full-time psychology teacher, chaired the Faculty Senate twice and served on many University committees.
She spent four years as UToledo's faculty athletics representative, a position in which she advised the president on intercollegiate athletics matters; served as the institution's representative to the Mid-American Conference and the NCAA; and was a non-voting member of the Athletics Committee, an advisory board that oversees intercollegiate athletics matters at Toledo.