UT places third at its national sales competition
---
Western Michigan University won The University of Toledo College of Business and Innovation Edward H. Schmidt School of Professional Sales' third annual UT Invitational Sales Competition, which took place Feb. 23 and 24.
Asbury University, Wilmore, Ky., took second place, and UT placed third among the 34 schools from across the country that came to Toledo for the event.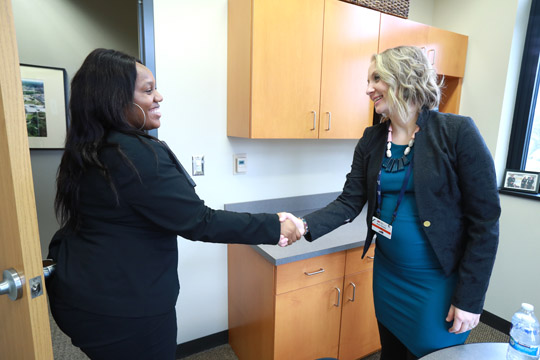 The UT Edward H. Schmidt School of Professional Sales team won the competition last year.
Individually, the winner of the Junior Division was Kaylee VanWinkle of Asbury University. The runner-up was Stacy Zoeller of Western Michigan University, and third place belonged to Haley Orr of UT.
In the Sophomore/Freshman Division, the champion was Ryan Demas from Western Michigan University; runner-up was Jackson Thomas of Asbury University; third place went to Samantha Lazuka of the University of Cincinnati; and fourth place was claimed by Hanna Capell of UT. Marissa Piemonte of James Madison University took fifth place, and sixth place belonged to Mason Cordes of UT.
"Formed in 2000 and endowed in 2002, UT's Edward H. Schmidt School of Professional Sales believes in developing the world's future sales professionals one student at a time, and the UT Invitational Sales Competition is an ideal platform to accomplish just that," said Deirdre Jones, director of the Edward H. Schmidt School of Professional Sales. "We are proud to be the nation's first and only national sales competition dedicated exclusively to the non-senior. We believe younger students are chomping at the bit to shine outside the shadow of a senior, and we are confident they have the talent and coachability to compete on a national stage."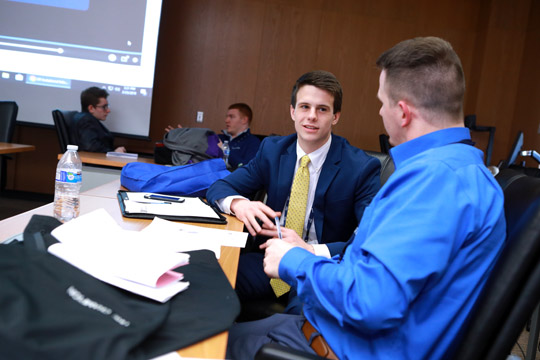 More than 100 sales leaders and recruiters who participate serve as buyers and judges for the role plays and also interact with the students during coaching and interviewing sessions and the career fair.
"The Edward H. Schmidt School of Professional Sales is thrilled to bring tomorrow's top talent to competition sponsors so they can find the sales talent they need for internships and regular placements first and feel more relaxed knowing they have time to ascertain mutual fit and complete the recruitment cycle. The UT Invitational Sales Competition also is indicative of the bench strength that exists at the nation's top professional sales programs, as each of the 34 participating universities has committed to recruiting for the competition's sophomore/freshman and junior divisions."
Corporate sponsors of the event included 3M, Goodyear Tire and Rubber Co., Mediasite, Intuit, Hilti, Crown, Procter & Gamble Co., Gartner, Owens-Corning, Quicken Loans, Schindler, Federated Insurance, Aflac and Actuant.
Jones added, "The best part of the UT Invitational Sales Competition for universities is just knowing how absolutely bright the future is for sales talent. It's really rewarding to see the students perform well. I and my colleagues love what we do, we're really passionate about it, knowing that we are impacting things now and decades from now, because these are the sales professionals of the future."