UToledo Celebrates Women's History Month All Through March
---
The University of Toledo celebrates the history of women throughout March with a slate of events, including a screening of a documentary about a now-shuttered abortion clinic; a town hall on advancing gender equity; and the fourth Annual Womxn of Color Symposium.
"Women's History Month provides us all an opportunity to celebrate how far women have come and to unpack the obstacles that remain in our way," said Dr. Angela Fitzpatrick, director of the Catharine S. Eberly Center for Women. "We are excited for the programs created by our planning committee and look forward to engaging our campus and community in this important exploration of women's issues."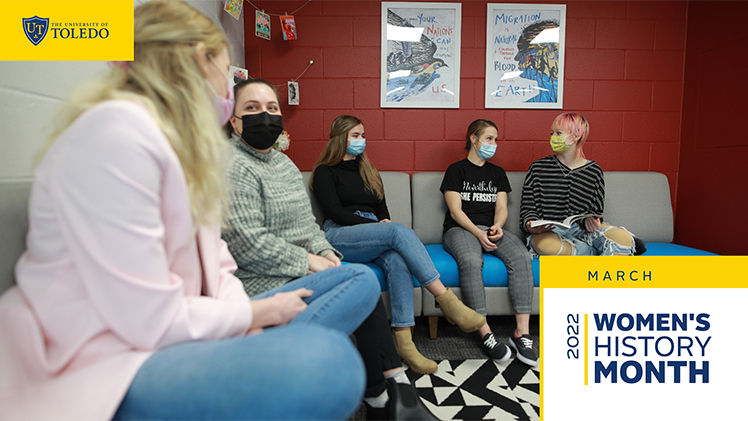 On Tuesday, March 1, the Eberly Center will screen "Body State," followed by a talkback featuring the documentary's director, Tinola Mayfield-Guerrero, and UToledo film professor Tammy Kinsey.
"Body State" explores the history of the now-closed Center for Choice, an abortion clinic in Toledo started in 1983 by reproductive rights activist Carol Dunn. Using interviews, found footage and spoken word, "Body State" documents the voices of women fighting for reproductive rights and justice amongst a landscape of threats, violence and uncertainty.
The screening is 4:30 p.m. in the Eberly Center Lounge.
On Tuesday, March 15, the Council on the Status of Women and the Eberly Center will host a town hall for all UToledo women faculty, staff and students on how to advance gender equity on campus.
The forum is from 3:30 to 5 p.m. in the Thompson Student Union Ingman Room.
For more information about the event, contact Fitzpatrick at 419.530.8574 or angela.fitzpatrick@utoledo.edu.
And on Friday, March 25, the Office of Diversity, Equity and Inclusion will host the fourth Annual Womxn of Color Symposium in Thompson Student Union Room 2592. This year's theme, "Thriving Forward," will focus on joy, futurism, self/community-care and resiliency. Registration is required.
Additional Women's History Month events include:
•  Thursday, March 17, noon to 1 p.m. via Zoom (register through the Eberly Center's website) Closing the Leadership Gap — learn what you can do to continue to close the leadership gap for women in this workshop with Fitzpatrick;
•  Monday, March 21, 3 to 4:30 p.m. in University Hall Room 4280, Rolling Back Roe: Reproductive Rights and Justice in 2022 — a roundtable conversation with Women's and Gender Studies faculty and community members;
•  Tuesday, March 22, 5:30 to 7:30 p.m. in Eberly Center Lounge, Women's History Month Trivia;
•  Saturday, March 26, 11 a.m. to 1 p.m. at Imagination Station — Eberly Center hosts UToledo students and their children at Imagination Station;
•  Monday, March 28, 4 to 6 p.m. in Eberly Center Lounge, mural unveiling of work designed by UToledo student; and
•  Wednesday, March 30, 11 a.m. to 1 p.m. in Eberly Center Lounge, Wiki Edit-A-Thon — learn how to research, write and edit Wikipedia entries to celebrate Ohio women.
To learn more about these events and others, visit the Women's History Month webpage.