Events slated at UT for Women's History Month
---
The 2017 Toledo Women in Leadership Symposium is one of the events taking place at the University in March.
UT is hosting the program that will be presented by the National Diversity Council. It will be held Wednesday, March 8, from 8:30 to 11:30 a.m. in the Thompson Student Union Ingman Room.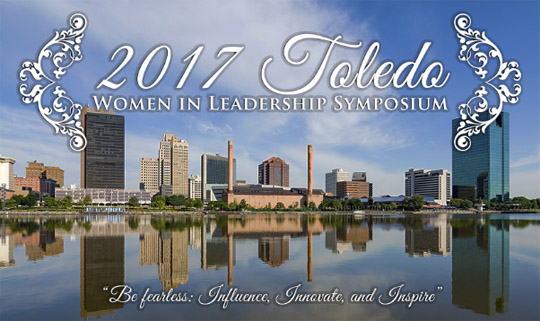 "The National Diversity Council is hosting 37 of these events across the nation in March during Women's History Month," Jennifer Pizio, diversity and inclusion associate director in the Office of Diversity and Inclusion, said. "Our symposium is being held on International Women's Day."
"Be Fearless: Influence, Innovate and Inspire" is the theme of this year's event.
"This symposium will bring together several local women leaders who will share their diverse experiences," Pizio said.
Dr. Michele Soliz, UT assistant vice president for student success and inclusion, will represent the University and participate in a panel discussion on "The Difference 'Difference' Makes — Double Minority Leadership."
"It is a privilege to represent UT and to speak about my experience as a Latina," Soliz said. "I'm looking forward to discussing how my intersectionality has helped me to be successful."
Other panel topics will be "Transforming the Rules of Engagement"; "Pioneering Pay Equity: Strategies to Bridge the Gap, Own Your Value, and Negotiate Your Worth"; "Women on the Web: Leveraging Social Media as a Means to Success"; "Leading With Authenticity: Strategies for Success With Your Own Leadership Style"; "Switching Your Career When Life Calls for a U-Turn"; "Reviving Your Career: Actionable Steps to Achieve a Professional Renaissance"; and "The Power of No: Defining Your Impact as a Leader."
For more information on the symposium, click here.
The cost to attend the program is $99. Register online at nationaldiversitycouncilregistration.org/oh/wil.
For more information about the symposium, email kelsea.haught@nationaldiversitycouncil.org.
Listed by date, other UT events scheduled for Women's History Month include:
• Thursday, March 2 — Lunch and Conversation on "Honoring and Celebrating Women's Contributions to Society," noon, Office of Multicultural Student Success, Thompson Student Union Room 2500.
• Thursday, March 9 — Women in Surgery Mentorship Mixer, 6:30 to 8:30 p.m., Social Gastropub at the Gateway, 1440 Secor Road. Dr. Francis Brunicardi, UT professor and chair of surgery, will give a presentation on leadership. The event is hosted by the UT medical student chapter of the Association of Women Surgeons and the UT Department of Surgery. Female residents, attendings and medical students who aspire to pursue a career in surgery are welcome.
• Tuesday, March 14 — Lecture by Carrie Fleming, 9:30 a.m., Health and Human Services Building Room 1711. The UT alumna founded Fleming Therapy Services Inc., which provides pediatric speech, occupational and physical therapy in five cities in Virginia.
• Wednesday, March 15 — Women's History Trivia and Photo Booth, 10 a.m. to 2 p.m., Thompson Student Union.
— Screening and Discussion of "Balancing the Scales," 5:30 p.m., Law Center McQuade Law Auditorium. Sharon Rowen, producer of the documentary that examines women in the legal profession, will be joined by retired Ohio Supreme Court Justice and UT alumna Judith Ann Lanzinger and Judge Denise Page Hood of the Eastern District of Michigan to talk after the film. The free, public event is sponsored by the Toledo Women's Bar Association and the Toledo Women Lawyers History Project. Lawyers may receive two hours of Continuing Legal Education for $25; email samantha_meiers@ohnd.uscourts.gov.
• Wednesday, March 22 — "Being Mary Willing Byrd: Race, Property and Widowhood in Revolutionary Virginia," 12:10 p.m., Catharine S. Eberly Center for Women, Tucker Hall Room 0152. Dr. Ami Pflugrad-Jackisch, UT associate professor of history, will discuss her research on Byrd's experiences before and after the American Revolution and offer insights into the construction of the gendered and racial hierarchies that defined life in the American South. Space is limited for the free talk; reserve a spot by calling the Eberly Center at 419.530.8570.
— Screening and Discussion of "The Trials of Spring," 7 p.m., Driscoll Alumni Center Auditorium. The film tells the story of 21-year-old Hend Nafea, who traveled from her village to Cairo, where she advocated with thousands of Egyptians for the end of military rule. She was arrested, beaten and tortured by security forces. After her release, Nafea was shunned by her family for bringing shame to their name. The film will be followed by a conversation with Nafea; moderators will be Dr. Renee Heberle, UT professor of political science, and Dr. Asma Abdel Halim, UT associate professor and chair of women's and gender studies. The free event will start at 6:30 p.m. with light refreshments. Sponsors for the event are the Department of Women's and Gender Studies; School of Interdisciplinary Studies; Office of Diversity and Inclusion; Catharine S. Eberly Center for Women; Program in Law and Social Thought; and Office of Student Services. For more information, call 419.530.2233.
• 
Monday, March 27
— An Evening With Dr. Tonya Matthews, 6 p.m., Nitschke Hall Room 1027. Matthews is president and CEO of the Michigan Science Center in Detroit; she was selected by Crain's Detroit Business as one of the 100 Most Influential Women in Michigan in 2016. The free talk is sponsored by We Are STEMM, the Office of Multicultural Student Success, African American Initiatives and NaturalHAIRitage.
• Tuesday, March 28 — "The Invisibility of Lesbians and Trans Women in History," 6 p.m., Thompson Student Union Room 2591.
— The Association of the Advancement of African-American Women's Empowerment Gala, 7:30 p.m., Thompson Student Union Ingman Room.
•
Wednesday, March 29
— The Catharine S. Eberly Center for Women is organizing a trip to see Anita Hill speak at Authors! Authors! at the Toledo-Lucas County Public Library, 325 N. Michigan St. An advocate for equality and civil rights, Hill is a professor of social policy, law and women's studies at Brandeis University in Waltham, Mass. The author of "Reimaging Equality" and "Speaking Truth to Power" raised national awareness on the issue of sexual harassment during the 1991 confirmation hearings of U.S. Supreme Court Associate Justice Clarence Thomas. The bus will leave the Eberly Center at 6:15 p.m. and return by 10 p.m. The trip is free for UT students and $10 for community members. For more information, call the Eberly Center at 419.530.8570.