Rockets capture second straight MAC West title
---
Toledo secured its second straight Mid-American Conference West Division title Tuesday evening with a dominating 76-57 triumph over Western Michigan in Savage Arena.
The win gave the Rockets their 24th victory of the season, tied for second most in school history, and three shy of the school record.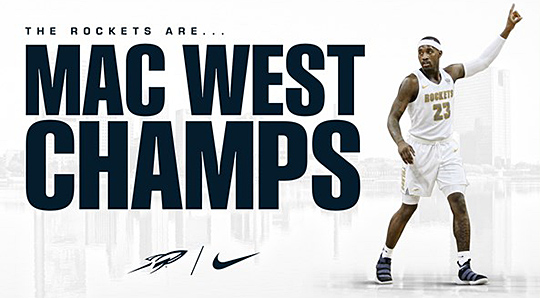 Toledo is tied with Bowling Green for the second best conference record at 12-5. The Rockets currently possess the No. 2 seed in next week's Mid-American Conference Tournament due to their 78-71 win over the Falcons Feb. 9.
Senior Nate Navigato's 17 points paced a balanced Toledo offense that featured five players in double figures. He was joined by senior Chris Darrington (12 points), sophomore Spencer Littleson (11 points), junior Willie Jackson (10 points) and sophomore Marreon Jackson (10 points).
Willie Jackson also grabbed a game-high 11 rebounds to register a double-double and help the Rockets to a 35-28 advantage on the boards. Freshman AJ Edu blocked a season-high six shots, the most by a Rocket since Allen Pinson swatted away seven at Duke Dec. 12, 2004.
Sophomore Michael Flowers topped Western Michigan with 21 points on 5 of 16 shooting.
Toledo shot 50.0 percent from the field and was 9 of 20 (.450) from behind the three-point arc. WMU finished with a 37.3 shooting mark and was just 2 of 14 (.143) from three-point range.
The Rockets will close out their 2018-19 regular season Friday, March 8, vs. Eastern Michigan (15-15, 9-8 MAC). Tip-off time in Savage Arena is set for 7 p.m.; the game will be carried on ESPN-Plus.
For tickets, call 419.530.GOLD (4653), go to the Toledo Rockets website, or stop by the UT Ticket Office in Savage Arena.