ToledoView offers local data analysis resource to community
---
If you want to know childhood obesity rates within a local elementary school district or find the location of every bank in Lucas County or learn how a neighborhood demographic has changed during the past 20 years, a new online database created by the Jack Ford Urban Affairs Center at The University of Toledo has the answers.
ToledoView is a compilation of economic, education, social, health and environmental data for the city of Toledo and surrounding communities that can be analyzed via downloadable maps, spreadsheets, charts, graphs or reports.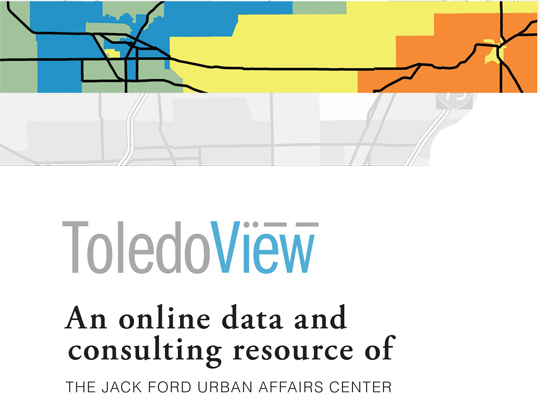 "There was a need for a one-stop data repository for economic planning and development, demographic analysis, forecasting and many other applications," said Dr. Neil Reid, director of the center and professor of geography and planning. "In addition to the database, the ToledoView team also is available to provide advice and assistance for projects ranging from site selection for a new health-care facility to an economic impact analysis."
The public launch of ToledoView will be Monday, March 14, at 3 p.m. in the Thomas and Elizabeth Brady Engineering Innovation Center on UT's Main Campus.
UT President Sharon L. Gaber will give opening remarks followed by a presentation on how to use the new resource by Reid and Dr. Peter S. Lindquist, professor emeritus of geography and planning, who is one of the main architects of the database. Local elected officials also will attend the launch event.
The database includes information such as population demographics, home values, public transportation service areas, business locations and types, street and interstate networks, and health and social services.
ToledoView will be available to use as a desktop application with a paid membership for businesses, real estate developers, governmental agencies and other community organizations. The resource also will be available for a fee for individual research projects and reports. The fees will support efforts to maintain and grow the resource.