Guest artist/educator to speak at Womxn of Color Symposium March 18
---
The Womxn of Color Symposium: Finding and Using Our Voice will offer a day of empowerment, dialogue and professional development for students, faculty, staff, alumni and community members.
Denice Frohman, poet, educator and performer, will deliver the keynote address focusing on identity, lineage, subversion of traditional notions of power, and celebrating aspects women deem unworthy.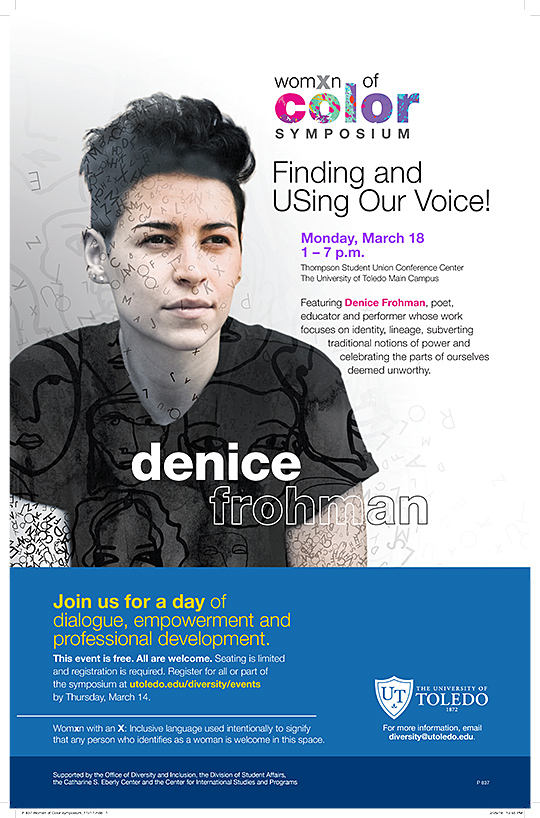 "This is the second year for the Womxn of Color Symposium. The symposium offers a space for womxn of color to discuss shared and divergent experiences, and connect and build a network of support to maximize self-actualization in our society," said Malaika Bell, program manager for the Office of Diversity and Inclusion.
"Charlene Gilbert, dean of the College of Arts and Letters, an academic and leader, will start the day's conversation. During dinner, we will wrap up with Denice Frohman, a queer, Puerto Rican poet, performer and activist," Bell continued.
"Womxn of Color includes as many identities as there are womxn. Our experience, skin color and background are all unique, but we are all subject to the same systems of traditional power structures and messages of inadequacy that can erode our senses of personal power," Bell said. "We want to use this time and space to learn and share together and focus on bringing our voices together, so we don't just use them, we will be using them to create a better world."
The committee chose to use womxn (with an "x") to emphasize that the symposium embraces an intersectional approach and is inclusive of all womxn: transgender womxn, womxn of color, womxn from developing countries, and any womxn who feel marginalized by society's expectations of women.
The Womxn of Color Symposium will take place Monday, March 18, from 1 to 7 p.m. in the Thompson Student Union Ingman Room. Frohman will speak at 5:30 p.m.
Registration is required for this free event, which includes dinner; go to the Office of Diversity and Inclusion website for more information and to RSVP by Thursday, March 14.