Toledo to play at George Washington March 15 in College Basketball Invitational
---
The Toledo men's basketball team (17-16) has accepted a bid to compete in the 2017 College Basketball Invitational, as announced by the Gazelle Group. The Rockets will travel to Washington, D.C., to face Atlantic 10 foe George Washington (19-14) in first-round action Wednesday, March 15, at GW's Charles E. Smith Center. Tip-off time is set for 7 p.m.
The Rockets, who faced the toughest non-conference schedule in the Mid-American Conference, will be making their third postseason appearance under Head Coach Tod Kowalczyk. UT previously has participated in the 2014 National Invitation Tournament as well as the 2012 CollegeInsiders.com Invitational Tournament during his tenure. Since the beginning of the 2013-14 season, Toledo's 81 overall victories rank second among Mid-American Conference schools.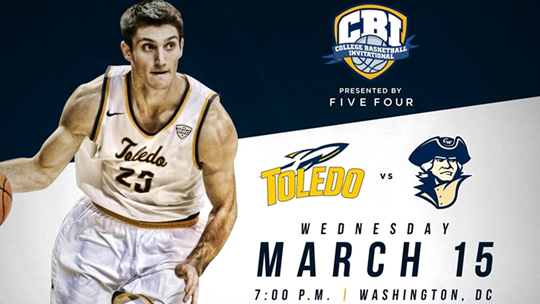 In the 2017 MAC Tournament, Toledo registered a 77-62 first-round victory over Bowling Green before narrowly falling to No. 2 seed Ohio in the quarterfinals by a 67-66 margin. A pair of Rockets — seniors Steve Taylor Jr. and Jonathan Williams — received all-conference honors prior to postseason play. Taylor earned second-team All-MAC accolades after ranking second on the team with 15.2 points per game to go along with team highs of 12.4 rebounds per game and 3.8 assists per game. Williams was a third-team All-MAC honoree for a second-consecutive season after leading UT with 19.6 points per game.
The College Basketball Invitational is a single-elimination tournament up until the best-of-three finals, with all games played at campus sites. After the first-round games, the quarterfinal round will take place Monday, March 20, followed by the semifinal round Wednesday, March 22. Prior to the semifinals, the remaining teams will be re-bracketed. A best-of-three series serves as the finals in which one team will host two of the three games. Those games will be played Monday, March 27; Wednesday, March 29; and Friday, March 31.
Past College Basketball Invitational champions include Tulsa, Oregon State, VCU, Oregon, Pittsburgh, Santa Clara, Siena, Loyola (Ill.) and Nevada. Teams from nearly every conference have participated in the event. Twenty-eight teams have used the tournament to springboard to the NCAA Tournament the following year, while another 17 have gone on to the NIT.
ESPN is again the official television home of the College Basketball Invitational presented by FIVE FOUR. ESPNU will televise each game of the best-of-three Championship Series. Roy Philpott and Corey Williams will serve as the broadcast team.
The College Basketball Invitational presented by FIVE FOUR is produced by the Gazelle Group of Princeton, N.J. The Gazelle Group is a sports marketing firm, specializing in event production and management, client representation, and sponsorship consulting. Gazelle produces numerous nationally recognized events, including the 2K Classic benefiting Wounded Warrior Project, Legends Classic, and the Gotham Classic. For more information, visit gazellegroup.com.