All MAC Spring Sports Seasons Canceled
---
At the direction of Dr. Jon Steinbrecher, commissioner of the Mid-American Conference, and in consultation with the MAC Council of Presidents and Council of Directors of Athletics, the following revised policies will be implemented:
• Cancel the MAC Women's Gymnastics Championship, which was originally scheduled for Saturday, March 21, at Western Michigan University in Kalamazoo, Mich.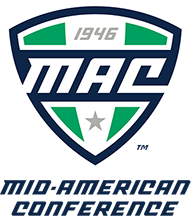 • Cancel regular season and championship competition, and nontraditional season competition, for the remainder of the 2019-20 academic year.
• Suspend formal and organized practices until further notice.
• Suspend off-campus recruiting activities and official and unofficial visits. The only permissible recruiting will be written and electronic communication to include letters, emails, text messages and phone calls, in compliance with existing NCAA legislation.
The decision to cancel spring sports competition affects seven Rocket programs (baseball, men's golf, women's golf, softball, men's tennis, women's tennis, and women's outdoor track and field,) as well as the women's soccer and women's volleyball teams, which hold off-season competitions.
All activities that had been scheduled on UToledo campus athletic facilities through March 31 have been canceled. The possible cancellation of activities scheduled for dates after March 31 — including summer camps and other larger gatherings — will be determined later.
"The health and safety of our student-athletes, coaches and staff has always been and will continue to be the main priority of The University of Toledo Department of Athletics," UToledo Vice President and Athletic Director Michael O'Brien said. "During these challenging times, we will continue to follow the directions and guidelines that we receive from the federal, state, University and conference levels. We will also try our very best to keep our supporters updated on any and all information regarding our athletic programs."