UT golfer selected for Women's Amateur Asia Pacific
---
University of Toledo senior Pinyada Kuvanun has been invited to participate in the second Women's Amateur Asia Pacific Thursday through Sunday, April 25-28, at the Royal Golf Club in Hokota, Japan.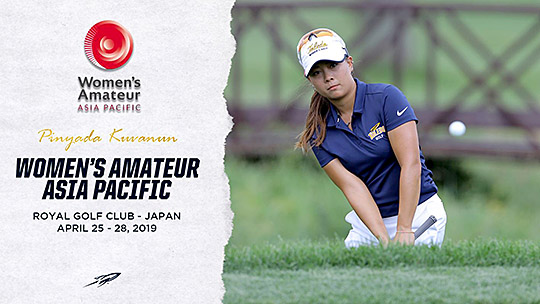 "It is an honor to be invited to play in the Women's Amateur Asia Pacific," Kuvanun said. "I am so excited to play with all the good players in this event. It is one of the big events in women's amateur golf, and I'm sure that I will learn a lot from this great opportunity."
A native of Khonkean, Thailand, Kuvanun is leading the Rockets with a 72.3 stroke average and has shot even-par or lower in 11 of her 21 rounds. She carded a career-best five-under par 67 en route to winning the Idle Hour Collegiate (Nov. 5-6) with a six-under par 210 (72-71-67). Earlier this month, she won her third collegiate tournament by shooting an even-par 216 (70-74-72) in the Battle at Boulder Creek in Boulder City, Nev.
The winner of the Women's Amateur Asia Pacific will receive an invitation to the 2019 American International Group Women's British Open at the Woburn Golf Club's Marquess course.
Click to access the login or register cheese