Islamic Studies Lecture to Discuss Middle East Authoritarians Reshaping Islam
---
The community is invited to a free lecture by an Islamic studies scholar at The University of Toledo about U.S. support for authoritarian governments in the Middle East and how it is suppressing the democratic and reformist interpretations of Islam that had taken shape in the 20th century and making the region dangerous for the whole world.
"My lecture will offer how the global civil society can help save not only Islam but also democracy by protecting institutions and forums of free inquiry," said Dr. Ovamir Anjum, UToledo Imam Khattab Endowed Chair of Islamic Studies.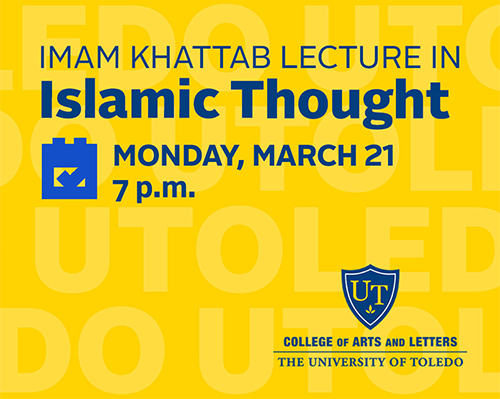 Presented by the UToledo Center for Religious Understanding, the event, which is titled "America's Meatgrinders: How Authoritarians are Reshaping Islam in the Middle East," is 7 p.m. Monday, March 21, in the McQuade Law Auditorium.
"Scholars once referred to Saudi Arabia, our oldest ally in the region and the staple of our oil-addicted economy, as 'America's Kingdom'; today, that kingdom has become America's 'meatgrinder,' and is now being used to butcher journalists, countless reformist clerics and citizens," Anjum said. "The counter-revolution, or the long winter after the brief Arab Spring of 2011, seems to be here to stay as ruthless autocrats like the crown prince Mohammad Bin Salman of Saudi Arabi and Mohammad bin Zayed of the United Arab Emirates have perfected the formula to use the War on Terror to suppress any dissent."
Addressing how that is altering Islamic doctrine, Anjum's talk will focus on a particular case, the governance of the Prophet Mohammad in Medina, which was once interpreted to provide justification for constitutional limits on the rulers' power and citizens' rights but is now employed — by the clerics authorized by the autocrats — to justify unquestionable power to the ruler.
"Whereas Muhammad had declared 'speaking truth to power' the highest form of religious action, even peaceful protests and moderately critical tweets are now deemed religiously prohibited and met with indefinite imprisonment and worse," Anjum said.
The event is part of the UToledo Center for Religious Understanding's annual lecture series. The center promotes a deeper understanding of religion on campus and throughout greater Toledo.
For more information about the lecture, visit the event's calendar listing.