Match Day Goes Virtual: UToledo Medical Students Asked to Share Photos, Videos
---
Celebrating online — that's what 165 fourth-year medical students at The University of Toledo will do when they find out where they will continue their training Friday, March 20.
This unprecedented time calls for a virtual Match Day event. The live stream will start at 11:30 a.m. on the College of Medicine and Life Sciences website.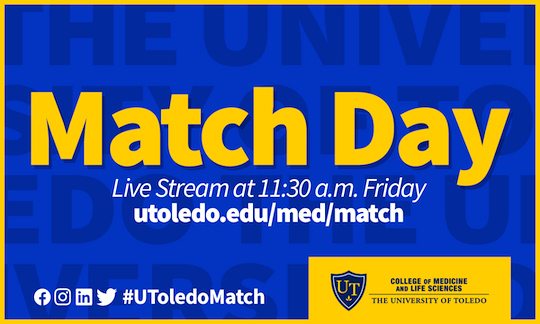 The highly anticipated annual ceremony will take place at noon as UToledo graduating medical students will join thousands of their peers across the country to open emails that contain their match.
To recognize this memorable day in a safe way, Dr. Christopher Cooper, dean of the College of Medicine and Life Sciences, and executive vice president for clinical affairs, invites students to share their social media posts, photos, videos and messages during the live-stream event.
Students are asked to use #UToledoMatch on social media posts. In addition, students may send messages, photos from watch parties and more to medsocial@utoledo.edu. Photos and videos of students opening their emails to learn where they matched are encouraged.
Special GIF stickers for UToledo's virtual Match Day have been created: Search UToledo in the Instagram and Snapchat apps.
Medical students spend months interviewing with hospitals and universities across the nation to determine where they want to continue to their medical training.
Students rank their top institutions, and academic and community-based health systems rank their top student choices. A computer algorithm administered by the National Resident Matching Program then puts together the students and residency programs.
Residents are licensed physicians who care for patients under the supervision of attending physicians while they continue to train in their chosen specialties.
Last year, 165 UToledo fourth-year medical students matched into positions in 23 specialties at institutions in 28 states.