Music on the Mall Returns for Weekly Outdoor Concerts
---
The Music on the Mall series has returned for free weekly lunchtime outdoor concerts through the end of the semester.
The concerts, sponsored by Campus Activities and Programming and the Office of Student Involvement and Leadership, run from 11 a.m. to 1 p.m. and are outside the Lancelot Thompson Student Union facing Centennial Mall and will include free snacks, face masks and hand sanitizer. The Music on the Mall series did not take place last year due to COVID-19.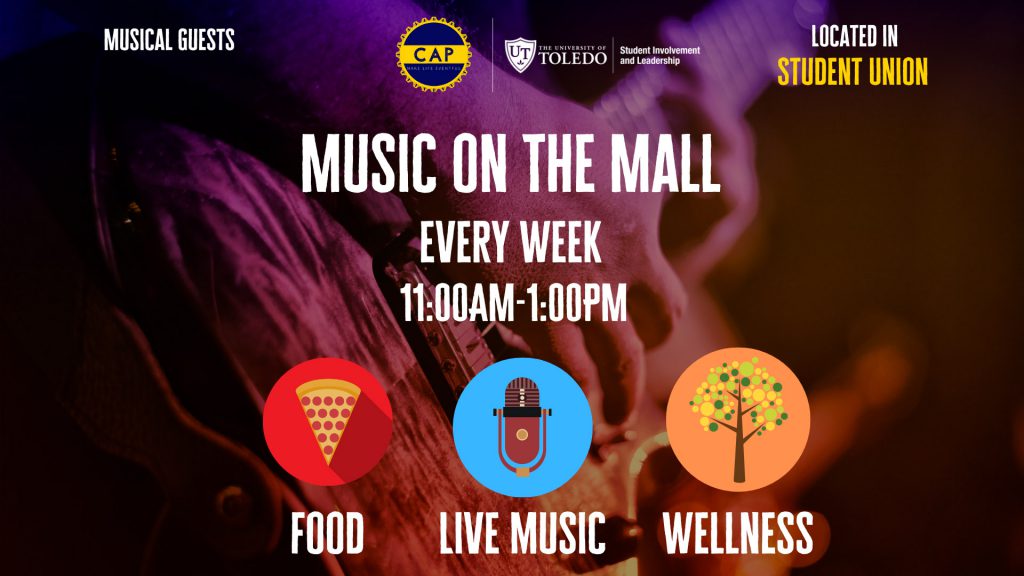 Upcoming performers include Mike Bryce on Wednesday, March 31, Connor Shelton on Wednesday, April 7, and Adam Hertzfield on  Wednesday, April 14, with additional Toledo-area performers to be announced.
"The Office of Student Involvement & Leadership and Campus Activities & Programming are amped to bring back Music on the Mall this semester," said Ben Weiner, interim associate director for student involvement and leadership and coordinator of student advocacy and support. "Due to COVID-19 this past year, we were on hiatus and we are now able to offer in-person events. Music on the mall brings local artists to campus to share their music and bring our campus community closer together. Please join us this semester, enjoy the sounds of Toledo with some wonderful catering from Rocket Dining."
Added Dr. Sammy Spann, associate vice president for student affairs and dean of students: "We hope the campus community will come out for Music on the Mall and enjoy the beautiful weather as we open up the campus. After the cold weather and COVID, listening to nice music on the campus for a picnic lunch in the warm weather will be soothing and relaxing."
Music on the Mall events will be posted in advance on Invonet.