UT to celebrate 100th anniversary of Rocket football in 2017
---
The University of Toledo football program will mark its 100th anniversary in 2017, and the Rockets have some special plans to help celebrate this historic milestone.
UT will recognize an All-Century Team as part of the celebration. Fans will have a chance to vote for the team, which will include the top 50 Rockets of all time, going back to the first season of organized football at the University in 1917. Fans also can take part in selecting the 10 greatest victories in Rocket history.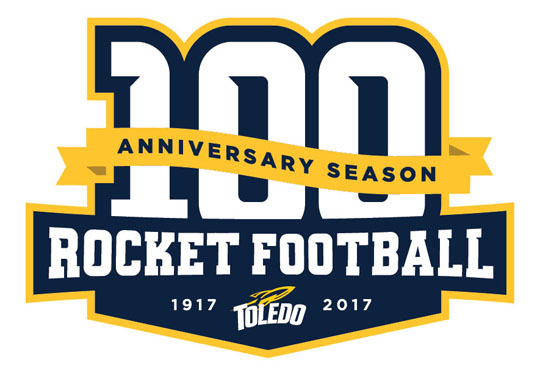 Voting will take place online from Monday, May 1, through Monday, May 15. The All-Century Team and All-Time Victory list will be unveiled via social media throughout the summer during a 100-day Countdown to Kickoff, culminating Thursday, Aug. 31, the date of Toledo's home opener vs. Elon.
The All-Century Team will be honored Saturday, Sept. 16, during the Rockets' game vs. Tulsa.
Fans will be able to vote beginning May 1 by going to the official website of the Rockets (UTRockets.com). Complete details on how to vote will be available next week.
The University of Toledo (then known as Toledo University) first fielded a football team in 1917 when a group of 13 students asked Professor John Brandeberry to serve as their head coach. The team adopted the nickname Rockets in 1923 and moved to its current home in the Glass Bowl in 1937.
In its 100-year history, the Rockets have won 526 games and 10 Mid-American Conference Championships, and have appeared in 16 bowl games.