UT to host inaugural Lessons in LeadHERship Conference April 17
---
USA Today columnist Christine Brennan will be among the speakers for The University of Toledo women's basketball program's inaugural Lessons in LeadHERship Conference Tuesday, April 17.
The event will take place from 8 a.m. to 4 p.m. in the Thompson Student Union.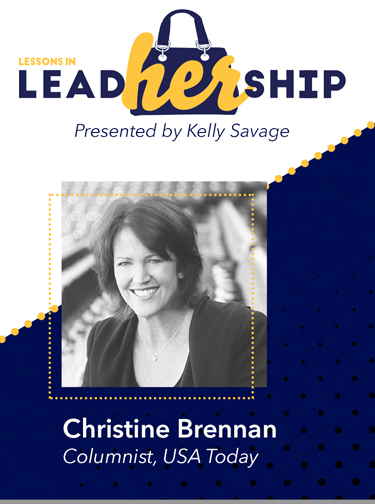 The conference was designed to help grow female leadership in the Toledo community and is being sponsored by UT alumna Kelly Savage from Savage & Associates.
"I'm excited to kick off this annual leadership conference," Toledo Head Women's Basketball Coach Tricia Cullop said. "I hope any female in our community who wants to improve their leadership skill, no matter their age, will attend the conference. We have some outstanding speakers in various fields who have conquered many obstacles on their paths to success. I have no doubt this will be an inspiring day."
Brennan's talk is titled "Today is the Greatest Day to be a Woman in America: Until Tomorrow." The Toledo native is an award-winning national columnist, commentator and best-selling author.
In addition to Brennan, Savage and Cullop, speakers for the one-day conference will include UT President Sharon L. Gaber; Tonya Rider, retired Toledo detective, who joined the Bowling Green State University Health and Human Services faculty; Chrys Peterson, leadership consultant and former news anchor; Dr. Clint Longenecker, Distinguished University Professor and director of the UT Center for Leadership and Organizational Excellence; Charlene Gilbert, dean of the UT College of Arts and Letters; and Dr. Stephanie Pannell, UT assistant professor of surgery, who specializes in colorectal surgery and surgical oncology.
Danielle Dwyer, WTOL sports anchor, will serve as the emcee.
The cost to attend is $50 per individual and $25 for high school and college students. The fee to attend also includes continental breakfast and lunch.
Attendees also can purchase a Layup Package ($250), which includes four tickets and name recognition throughout the event. Another possible option is a Free-Throw Package ($500), which includes eight tickets, name recognition throughout the event, and a booth with your company's information. The final ticket option is a Three-Point Package ($1,000), which includes 16 tickets, name recognition throughout the event, and a booth with your company's information.
For more information or to purchase tickets, contact Lauren Flaum, UT director of women's basketball operations, at 419.530.2363 or email lauren.flaum2@utoledo.edu.