UT Social Work Program to host workshop on youth trauma and resiliency
---
The University of Toledo's Social Work Program will host a free workshop on youth trauma and resiliency Wednesday, April 18, at 5:15 p.m. in Health and Human Services Building Room 1500.
The workshop is designed to raise awareness in the community about youth trauma, protective factors and resilience. A panel of experts will discuss working with youth and ways to advocate for those experiencing trauma.
"This can be useful for anyone who wants to help others and make connections," said Ryan Cornoyer, mental health professional at ProMedica. "Educating ourselves how to identify and properly address these concerns will strengthen our student body by allowing us to support each other in an effective manner."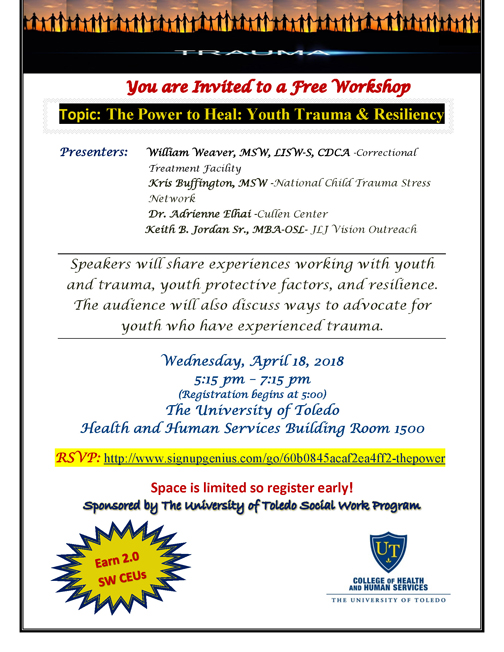 Members of the panel will be:
• Kris Buffington, past chair and member of the National Child Traumatic Stress Network Juvenile Delinquency Committee and former chair of the Ohio Department of Mental Health Child Trauma Task Force Training and Evidence-Based Practices Committee;
• Dr. Adrienne Elhai of the Cullen Center at ProMedica Toledo Children's Hospital; and
• Keith B. Jordan Sr., vice president and director of development at JLJ Vision Outreach, a Toledo organization that works with at-risk youth.
"The event will provide useful information for a wide range of professions and student interests," Cornoyer said.
Registration for the free event is requested by Monday, April 16; click here.
For more information, contact Cornoyer at ryan.cornoyer@rockets.utoledo.edu.