Steak 'n Shake to open April 18
---
In response to requests from University of Toledo students, Steak 'n Shake will open Tuesday on Main Campus.
A ribbon-cutting for Steak 'n Shake will be held Tuesday, April 18, at 9 a.m. in the Thompson Student Union.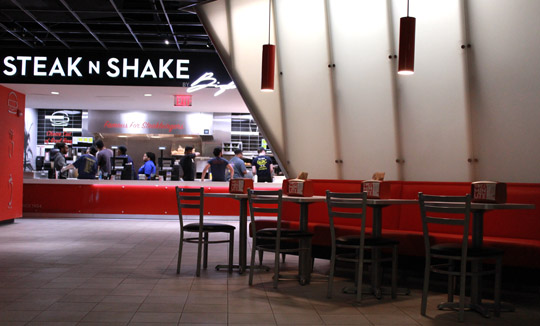 "We are excited to expand dining choices for students through our partnership with Aramark," Dr. Kaye M. Patten, senior vice president for student affairs, said. "Our students have asked for national restaurant chains, and we are proud to welcome this one to campus." 
Freshens also opened last month on UT's engineering campus. 
UT will give away T-shirts to the first 10 Steak 'n Shake customers Tuesday. Plus, the first 200 people will receive a coupon for a 20 percent discount on their next order. 
After Tuesday's grand opening, Steak 'n Shake will be open Monday through Thursday from 10:30 a.m. to 8 p.m. and Friday from 10:30 a.m. to 5 p.m.