UT scientists hosting public discussion on Zika, Ebola
---
As the fight to prevent and control the spread of the Zika virus in the United States heats up, several University of Toledo scientists are hosting a Science Café to address concerns from the community.
The free, public event titled "Emerging Viruses: Ebola, Zika and Beyond" will take place Tuesday, April 19, from 5:30 to 7 p.m. at Calvino's Restaurant, located at 3141 W. Central Ave.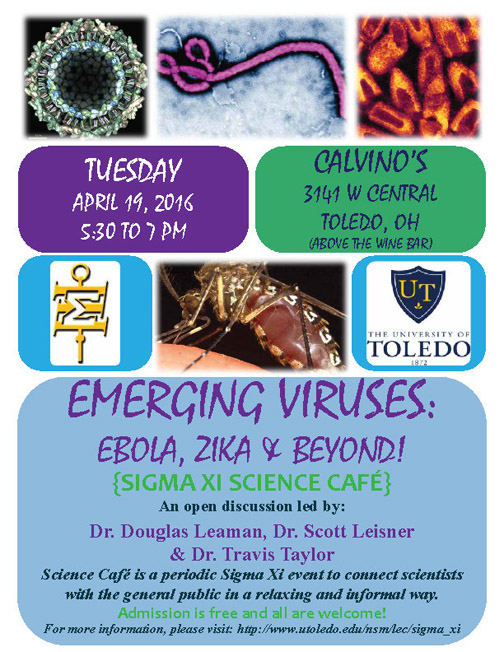 The informal discussion, which is organized by the scientific research society Sigma Xi at UT, will be led by Dr. Douglas Leaman, professor and chair of the Department of Biological Sciences; Dr. Scott Leisner, associate professor of biological sciences, who studies virus-host interactions; and Dr. Travis Taylor, assistant professor and virologist in the Department of Medical Microbiology and Immunology.
"Our experts are here to help educate people in the Toledo community who may be worried about our vulnerability in northwest Ohio or how to protect loved ones from becoming infected," Dr. Carol Stepien, director of UT's Lake Erie Center and ecology professor, said. "Through these ongoing Science Café events, we seek to engage the public, advance general knowledge, and promote what our university researchers are doing."
The Zika virus is a mosquito-borne virus linked to birth defects, including microcephaly, in which babies are born with abnormally small heads and brain damage.
Brazil reported a startling increase in cases last fall. The virus has been spreading in Mexico, Central America and South America. It now is becoming prevalent in Florida and other southern U.S. states. More than 300 U.S. travelers have been infected with the virus after returning from an outbreak country.
Ebola is a deadly virus found in several African countries and transmitted through contact with blood or secretions from an infected person. The virus first arrived in the United States in 2014 through infected travelers or medical evacuations. Two people treated for Ebola in the United States died.
For more information about the upcoming Science Café, visit utoledo.edu/nsm/lec/sigma_xi.