Golfer will compete in NCAA Regional in Bluegrass State
---
Senior Duncan McNeill will travel to the Bluegrass State Monday through Wednesday, May 13-15, to compete in the NCAA Louisville Regional at the University of Louisville Golf Club in Simpsonville, Ky.
McNeill earned his spot in the regional event by winning last weekend's Mid-American Conference Championships in Aurora, Ohio.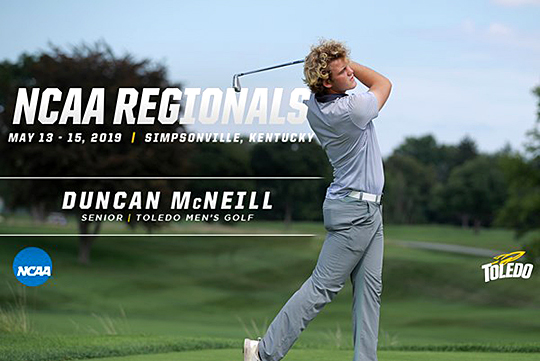 The five other regional sites are in Pullman, Wash.; Stanford, Calif.; Murrells Inlet, S.C.; Athens, Ga.; and Austin, Texas.
A native of Annan, Scotland, McNeill has competed in the NCAA Regionals twice previously when he attended McNeese State University.
At the MAC Championships, McNeill tallied an impressive five-under 139 (71-68) with his four-under 68 in the second round tying his career low. He led the Rockets in the 2018-19 campaign with a 74.6
McNeill will be joined by 13 teams and nine other individuals. The teams competing in the NCAA Louisville Regional are defending national champion and No. 1 seed Oklahoma State, No. 2 Auburn, No. 3 North Florida, No. 4 Louisville, No. 5 Baylor, No. 6 Arkansas State, No. 7 Iowa State, No. 8 West Virginia, No. 9 Arizona, No. 10 Mississippi State, No. 11 New Mexico, No. 12 Jacksonville State and No. 13 Southern Illinois. The individuals are Jordan Hahn (Wisconsin), Jamie Stewart (Missouri), Miguel Delgado (Notre Dame), Trent Wallace (Illinois State). Jimmy Hervol (UConn), Logan Lowe (George Washington), David Rauer (Illinois State), Garrett Wood (Xavier) and George Kneiser (Green Bay).
The top five teams and top individual not on an advancing team will move on to the NCAA Championships, which will be held at the Blessings Golf Club in Fayetteville, Ark., from Friday through Wednesday, May 24-29.