University Honors Faculty, Staff for Advising, Research, Teaching, Mentoring, Outreach
May 5, 2022 |
News
,
UToday
,
Alumni
,
Arts and Letters
,
Business and Innovation
,
Engineering
,
Health and Human Services
,
Honors
,
Law
,
Natural Sciences and Mathematics
,
Nursing
,
Pharmacy and Pharmaceutical Sciences
By Kirk Baird
---
The University of Toledo is recognizing its outstanding advisors, researchers and teachers, and announcing the recipients of the Edith Rathbun Award for Outreach and Engagement for the 2021-22 academic year.
In addition, the Faculty Mentoring Award has been presented.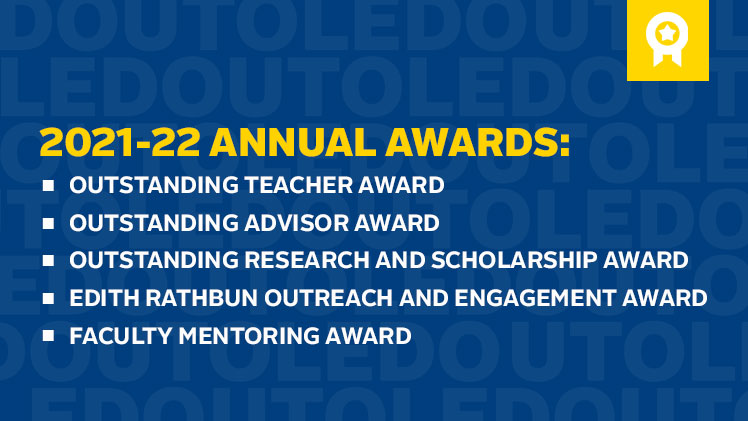 "We are proud to have so many dedicated faculty and staff at UToledo who go above and beyond for our students and the University," said Dr. Karen Bjorkman, provost and executive vice president for academic affairs. "Each year we take the opportunity to recognize some of our outstanding team members based on nominations from our campus community. Congratulations to this year's recipients who are truly inspiring."
Recipients of the Outstanding Advisor Award are:
Beth Denzel, academic advisor in the College of Natural Sciences and Mathematics.
"Beth has a demeanor that immediately establishes trust in her daily interactions with our biology students," one nominator wrote. "Her calm and confident approach to advising is incredibly valuable, working with both students and colleagues here on campus."
Another wrote, "Beth has been one of my absolute favorite faculty members here at UToledo. She is also so easily approachable and will help you solve any problem to help you achieve your academic goals."
One nominator added, "I owe a huge portion of where I am at academically and in my degree to her. I know I can always rely on her to help me succeed."
Dr. Bina Joe, Distinguished University Professor and chair of the Department of Physiology and Pharmacology in the College of Medicine and Life Sciences.
"She is always welcoming for the students in her office for any kind of assistance required. She is a caring advisor, not only to me but for other students as well," a nominator wrote. "Her professional personality is very engaging and encouraging."
"Dr. Joe has proven herself to be the best of what she does. She is the Distinguished University Professor and most importantly she has been proving it daily in terms of the way she deals with her advisees and the fellow students," another nominator wrote. "I feel so grateful to be one of her advisees. She deserves to be awarded with the prestigious 'Outstanding Advisor Award' to honor her services to the institution and most importantly her selfless caring nature to her students and advisees."
Recipients of the Outstanding Research and Scholarship Award are:
Dr. Rupali Chandar, professor of astronomy in the Department of Physics and Astronomy in the College of Natural Sciences and Mathematics. She joined the faculty in 2007.
Chandar, who studies the formation and evolution of stars and galaxies, pioneered the study of massive star clusters in distant galaxies and established methods for identifying and studying clusters using the incredibly sharp vision of the Hubble Space Telescope. Because of her expertise in the study of galaxies, Chandar also is highly sought after as a collaborator and is part of a team awarded the second-largest amount of observing time on the James Webb Space Telescope.
She has been an author on 94 peer-reviewed articles published in international, top-tier journals for astrophysical research — this includes 13 first-author papers and 20 papers since 2020. Her work has garnered 4,347 citations.
Dr. Amit Tiwari, associate professor in the Department of Pharmacology and Experimental Therapeutics in the College of Pharmacy and Pharmaceutical Sciences. He joined the faculty in 2015.
Tiwari is a multidisciplinary educator dedicated to nurturing a new generation of scientists, learners, and leaders at UToledo. He has a strong commitment to cancer research and has made substantial scientific contributions in discovering, designing and developing targeted anticancer molecules for multidrug-resistant (MDR) cancers.
In 2021, Tiwari received the University's Outstanding Advisor Award. With an active grant totaling $3,558,568 and a pending grant of more than $13 million dollars, Tiwari is one of the most-funded researchers in the College of Pharmacy and Pharmaceutical Sciences. And he has authored 130 peer-reviewed publications, 13 book chapters and four patent applications by UToledo.
Bryan Lammon, professor in the College of Law. He joined the faculty in 2013.
Awarded the 2021 President's Award for Excellence in Creative and Scholarly Activity, Lammon is one of the nation's leading experts on federal appellate jurisdiction — the rules governing if, when and how litigants can appeal in federal court. Lammon's work has influenced the academic study of federal appellate jurisdiction, its practice in the federal courts and its development through the rulemaking process.
His work has been cited in some of the most elite journals, and, since 2013, he has published 12 articles and essays in the field of appellate jurisdiction, with more forthcoming. As is common in legal scholarship, most of his articles are more than 20,000 words. He has also written more than 250 posts for his blog on appellate jurisdiction, Final Decisions (finaldecisions.org), including a weekly roundup of decisions and developments in the field. Those posts amount to almost 400,000 words of original content.
Recipients of the Edith Rathbun Award for Outreach and Engagement are:
Dr. Ashley Pryor, associate professor of humanities in the Jesup Scott Honors College.
Pryor's selection was based upon her wide-ranging engagement activities including her work promoting community engagement through the development of new community-focused courses, work in the prison community with the Inside/Out Prison Exchange Program and leadership in organizing student trips to Central America to address challenges of people living in poverty.
Robert Salem, associate dean for diversity and inclusion and clinical professor of law in the College of Law.
Salem's selection was based upon his broad contributions combatting bullying, promoting LGBTQ+ rights, the Prison Reentry Project, the Elder Law project and the Public Defender Project. In addition, Salem is engaged in and has had a leadership role in important community organizations, and evidence of the quality of his work is provided by the many awards Salem has received from those community organizations.
Dr. Ngalula Mubenga, assistant professor of electrical engineering technology in the College of Engineering.
Mubenga's selection was based on her work to bring STEM education, entrepreneurship and research to the Democratic Republic of the Congo, the United States and the world through her STEM DRC initiative. The impact of Mubenga's work is demonstrated by the number of scholarships awarded by her program over the past three years.
Recipients of the Outstanding Teacher Award are:
Kevin Gibbs, a senior lecturer in the Department of Mathematics and Statistics in the College of Natural Sciences and Mathematics.
"He was always willing to put in extra work to help students who struggle with math. We learned so much information in his class and although I felt challenged, I was never struggling," one nominator wrote. "It was the best math class I've ever taken."
Another nominator wrote, "I once believed I wouldn't even make it out of the first few weeks of college algebra, and now I'd say it was probably one of my favorite classes I've taken. It wouldn't have been possible without an incredible and caring teacher like Professor Gibbs."
Dr. Renée Heberle, professor of political science, co-director of the Program in Law and Social Thought and coordinator of the Inside/Out Prison Exchange Project in the Department of Political Science and Public Administration in the College of Arts and Letters.
"She has been an outstanding professor who has always made classes engaging through leading insightful discussions and valuing the thoughts of all students," one nominator wrote. "I have always looked forward to attending her classes, and every time I leave class I feel that I have learned so much from her."
Another wrote, "Her personality while teaching and compassion is what makes me want to continue to register for more of her courses."
Michael Kistner, senior lecturer in Spanish in the Department of World Languages and Cultures in the College of Arts and Letters.
"I have never had a more personable or relatable teacher. Mike made each class enjoyable and educational despite the difficulty of the material," one nominator wrote. "He is easily the best teacher I've had in my college experience, and I will always recommend any class with him."
"He is what every professor should aim to be: he is kind, he is supportive of his students and he makes sure there is no confusion with any of his content before moving on," another nominator wrote. "If I could make him my professor for all of my classes, I would."
Jody Morris, associate lecturer in the School of Population Health in the College of Health and Human Services.
One nominator wrote, "She makes class fun and as interesting as she can and relates the material to the students."
Another nominator wrote, "Professor Morris loves to connect with her students. She checks in with us every class to make sure we are understanding the course material. … At the beginning of the semester she even gave us an assignment called the "Get to Know You Quiz." In the quiz she asked about our personal ways of studying and what she can do during her lectures to make sure we will have an easier time learning what she is teaching us."
Dr. Kathy Shan, lecturer in the Department of Physics and Astronomy in the College of Natural Sciences and Mathematics.
"Professor Shan has helped me to believe in myself," one nominator wrote. "As a teacher she has helped me to overcome what I felt was an insurmountable task in my course load to the point where I was considering switching majors if not entirely dropping out of college. And as a person she has helped me to understand college itself more so than any introductory class ever could. She's a true role model for me both in terms of personality and determination. … I will never be able to understate the impact she has had on me."
"Dr. Shan creates an environment that is welcoming, friendly, fun and educational," another nominator wrote.
Dr. Jenell Wittmer, associate professor of management in the John B. and Lillian E. Neff College of Business and Innovation.
"Jenell has been a personal inspiration to myself in her presentation as both a professional, as well as a wife and mother. She has been able to have her family as guests to a few events over the past semester, and it was inspiring to watch such a professional women easily shift to the motherhood role without giving up any of her professionalism. As a student who wants both a successful professional career, as well as family life, in the future, it has been inspiring to see Jenell, not just manage, but excel, in both," one nominator wrote.
Another wrote: "Throughout my education Dr. Wittmer has been the best teacher I have met in my now five years at The University of Toledo."
The recipient of the Faculty Mentoring Award is:
Dr. Eileen Walsh, associate dean for research and scholarship and director of the honors program in the College of Nursing.
"I cannot think of a more deserving faculty member for the UToledo Faculty Mentoring Award than Dr. Eileen Walsh from the College of Nursing," a nominator wrote. "Eileen works seamlessly with students in all programs and faculty in all stages of their careers. Her expertise and personal scholarship make her an effective mentor for the College of Nursing as she has had many professional experiences and accomplishments. She is a true asset to our college and we are very fortunate to be able to learn from her."
"She is approachable, kind, organized, an excellent writer and editor, intelligent, supportive without being punitive and always seeks to raise others up," another wrote. "She is always willing to find time to work with a faculty member or student. These qualities are continually on display and worthy of being recognized."
And another nominator wrote, "Dr. Walsh is the epitome of an outstanding mentor. She is a worldwide expert in her field, she is a leader in the College of Nursing, she is an award-winning faculty member, but, most of all, she is kind, humble and encouraging in a way that goes above and beyond."