Virtual Conversation on Humanitarianism Scheduled for May 10 in Commemoration of George Floyd
---
Prominent scientists, authors, civil rights activists and diversity trainers will commemorate George Floyd with a conversation on the physiological and psychological effects of systemic racism and its implications for African Americans' right to live a just life in the United States.
The JUST Life Webinar: A Conversation on Humanitarianism event will take place 6:30 to 9:30 p.m. Monday, May 10, via Webex. It is presented by the Social and Philosophical Foundations of Education program of The University of Toledo Judith Herb College of Education along with Provost's Office and Office of Diversity and Inclusion.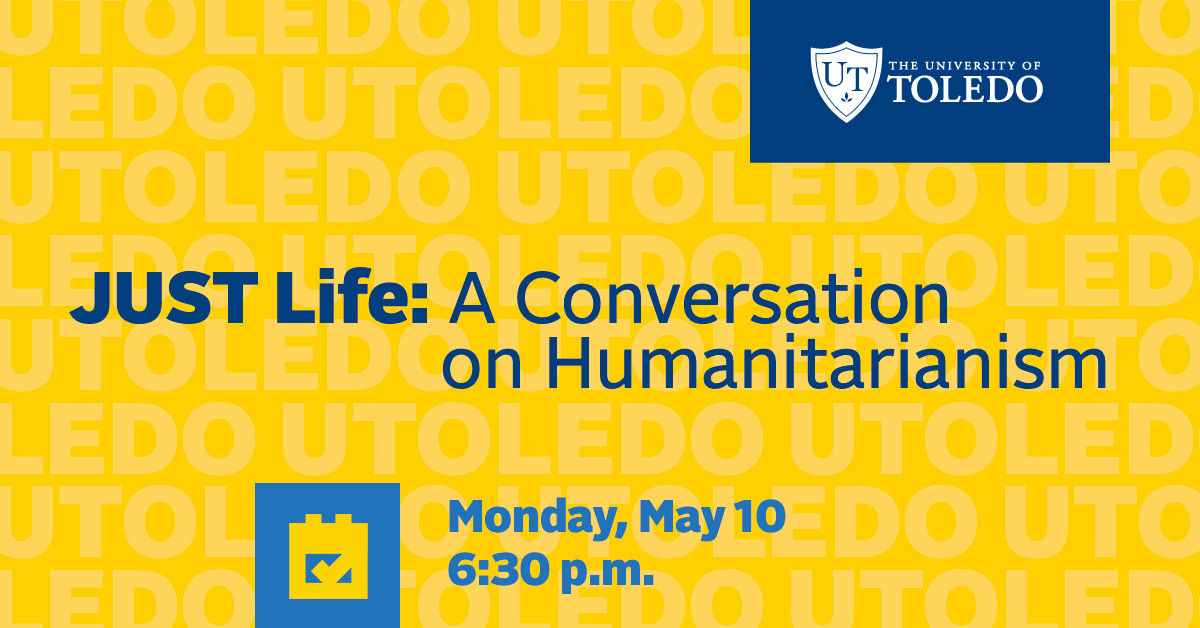 The JUST Life webinar will be held in commemoration of George Floyd, who was murdered by Minneapolis Police nearly one year ago. Officer Derek Chauvin was convicted on all three charges — second-degree murder, third-degree murder and second-degree manslaughter — and will be sentenced in late June. The three other police officers involved in Floyd's death — Thomas Lane, J. Alexander Kueng and Tou Thao — have been charged with aiding and abetting murder and are expected to be tried in August.
Attendees will have the opportunity to engage in a conversation following the presentation to discuss the work we need to do together to fight against racism in all of its manifestations and to focus on humanization through conversation.
The webinar was conceived from work challenging white supremacy in education, led by graduate students who came together through a Ph.D. seminar in UToledo's Social and Philosophical Foundations of Education program. The moderator, Chitranjan Greer-Travis, a first-year Ph.D. student studying philosophy of education, entered the program after serving for many years as a police officer in Detroit and witnessing firsthand trauma-inducing tragedies.
The organizers of the event believe that, as educators and citizens, they must acknowledge and learn to respond to African American and other persons of color trauma and its effects, caused and magnified by ongoing systemic racism; and that society needs to learn humanitarianism and reject dehumanization to move towards reconciliation and humanization.
JUST Life Webinar speakers include:
•  Jean Lud Cadet, chief of molecular neuropsychiatry research branch at the National Institutes of Health and associate director for diversity and outreach at the National Institute on Drug Abuse, and Dr. Asha Pillai, associate professor in the Miller School of Medicine at the University of Miami, will discuss their research on the psychological and physiological effects of systemic racism on African Americans;
•  Niecy Fuqua, CEO of Diversity & Inclusion PM, will discuss her personal experiences on the topic of systemic racism and how it impacts morale and camaraderie in the military;
•  Elaine-Eason Steele, co-founder of the Rosa and Raymond Parks Institute for Self-Development, and Anita Peek, executive director of the Rosa and Raymond Park Institute for Self-Development, will reflect on their experiences on systemic racism and their journey in the fight for civil rights;
•  Melvin Lars, educator, author, social activist and founder and CEO of Brighter Futures, will discuss how gaslighting is used as a means to minimize and dispute the infusion of systemic racism by manipulating the conversation and working to convince people not to trust their eyes and experiences; and
•  Selwyn Jones, social justice activist and uncle of George Floyd, will discuss the impact of systemic racism on himself and his family, especially his sister (George Floyd's mom) and her son. He will reflect on the events surrounding Floyd's death, including the recent conviction of Chauvin.
The webinar is co-sponsored by northwest Ohio organizations that are leading the charge for humanism in place of dehumanization, including The Sojourner's Truth community newspaper; Toledo Public Schools Department of Equity, Diversity and Inclusion; Community Solidarity Response Network of Toledo; The Junction Coalition; and The Padua Center, as well as programs in Peace Studies and Peace Education at The University of Toledo.