UToledo Ready to Celebrate Graduates at In-Person Commencements
May 7, 2021 |
Graduate News
,
News
,
UToday
,
Advancement
,
Alumni
,
Arts and Letters
,
Business and Innovation
,
Engineering
,
Health and Human Services
,
Judith Herb College of Education
,
Law
,
Medicine and Life Sciences
,
Natural Sciences and Mathematics
,
Nursing
,
University College
By Staff
---
The University of Toledo is ready to celebrate graduates with in-person commencement ceremonies that adhere to COVID-19 safety protocols.
The graduation ceremonies kicked off last week with the College of Pharmacy and Pharmaceutical Sciences ceremony on May 11 and will continue throughout the month. Holding several smaller ceremonies allows for better physical distancing among graduates and guests.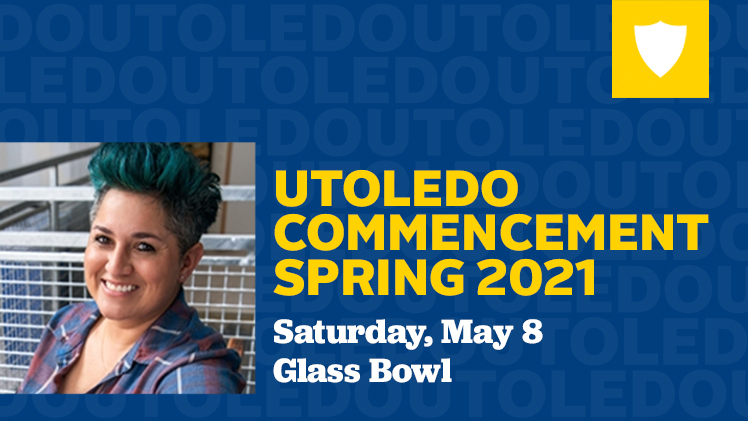 The main spring commencement ceremonies will be 10 a.m. and 3 p.m. Saturday, May 8, in the Glass Bowl.
The 10 a.m. ceremony recognizes graduates from the colleges of Engineering; Health and Human Services; Nursing; and University College.
The 3 p.m. ceremony recognizes graduates from the colleges of Arts and Letters; the John B. and Lillian E. Neff College of Business and Innovation; Judith Herb College of Education; and Natural Sciences and Mathematics.
All attendees will be required to wear face masks at both the outdoor and indoor ceremonies and keep at least 6 feet from others not in their household. Graduating students were required to reserve tickets in advance and each was eligible to receive up to four tickets for their guests.
UToledo alumna Irma Olguin, Jr. will remotely deliver the keynote address at the ceremonies.
Olguin is co-founder and chief executive officer of Bitwise Industries in Fresno, Calif. She graduated in 2004 from the UToledo College of Engineering with a bachelor's degree in computer science and engineering and went on to blaze a trail of inclusivity for women and minorities in the tech industry.
In March, Bitwise Industries announced it is investing in Toledo. Olguin's tech company plans to open a branch in the Jefferson Center building, Toledo's historic former post office, to provide paid apprenticeships to students from diverse and underserved communities to learn tech skills.
Additional upcoming commencement ceremonies include the College of Law Commencement at 10 a.m. Saturday, May 15, and the College of Medicine and Life Sciences Commencement at 3 p.m. Friday, May 21, both of which are in Savage Arena.
Graduates receiving doctoral degrees will have the opportunity to participate in a separate hooding ceremony at 6 p.m. Friday, May 7, in Savage Arena.