Four Women's Tennis Players Earn Academic All-District Honors
---
Toledo's Cassie Alcala, Julia Kuszynski, Mariona Perez, and Shalini Tallamraju were recognized for their outstanding athletic and academic performance this season when the College Sports Communicators (CSC) announced its 2023 Academic All-District Women's Tennis Teams.
Alcala, a native of Pickerington, is a business major with a 3.935 GPA. Alcala is a two-time MAC Player of the Year and three-time First-Team All-MAC honoree from the Rockets' No.1 singles court.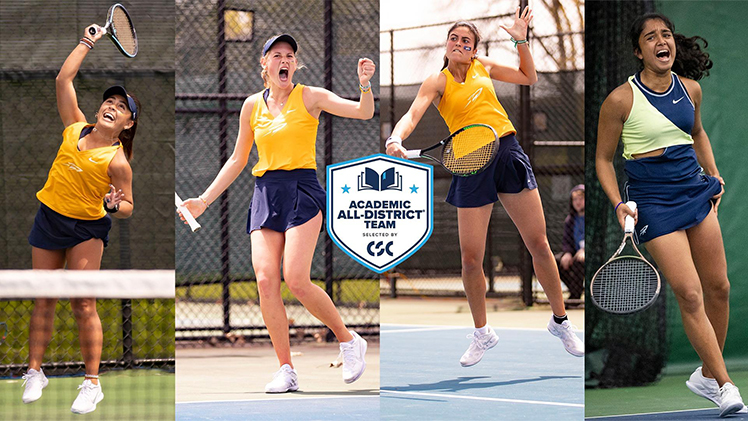 Markham, Ontario,  native Kuszynski holds a 4.00 GPA and is studying exercise science. Kuszynski has a 12-9 dual match record from the No. 6 court this season and was 14-2 in doubles competition from the No. 2 court.
Perez, from Terragona, Spain, graduated with a master's degree in economics with a 3.733 GPA. Perez was named to the MAC All-Tournament Team and ended her season with a 17-4 dual record from the No. 4 court.
Tallamraju, a biology major from Munster, Indiana, holds a 3.953 GPA. Tallamraju was honored by the MAC this season with second-team honors and named to the MAC All-Tournament Team with a team-best 20-3 record in dual play.
The CSC Academic All-District honors recognize the nation's top student-athletes by their academic achievements and athletic accomplishments. To be eligible, a student-athlete must have a minimum cumulative grade-point average of 3.50 and have competed in at least 50% of the team's matches.
All honorees move to the CSC Academic All-America ballot where first, second and third teams will be announced on Wednesday, May 31.