Associate professor to screen film in England
---
Holly Hey, UT associate professor and head of film, has been invited to screen her film, "the dum dum capitol of the world," at Future Now: The Aesthetica Art Prize Symposium in York, England,Thursday and Friday, May 26-27.
"the dum dum capitol of the world" will be shown as part of the specially curated selection of artists' films and moving image works selected from the winners of the Aesthetica Short Film Festival over the last several years.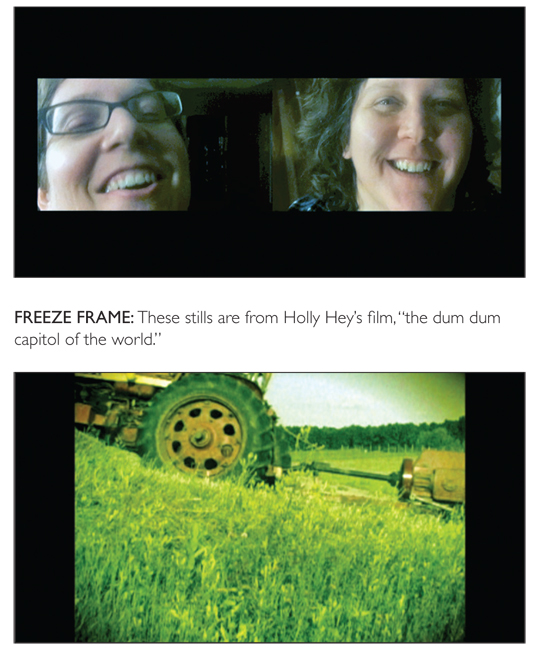 Hey's film screened at the 2015 Aesthetica Short Film Festival and will be showcased with high honor among the best at the Future Now: The Aesthetica Art Prize Symposium. "the dum dum capitol of the world" received the LEF Moving Image Award.
She said the first-person experimental documentary is a moving-image meditation that contemplates landscape, home, recollection, queerness and time.
"The project uses personal history to reflect on universal themes about home, life, love, parenting, memory and death," she said.
Hey began the project in 2005 when she received funding from the LEF Moving Image Foundation. She later received funding from The University of Toledo in 2012 and completed the film in 2014.
Future Now: The Aesthetica Art Prize Symposium is an extension of Aesthetica Magazine, a British art and culture publication that covers photography, visual art, music, film and theater. It has a readership of more than 284,000 and national and international distribution.
The symposium will consist of more than 40 speakers who will address diverse art topics. It also offers learning and networking opportunities through the industry sessions for artists.
Hey, who holds a master of fine arts degree in filmmaking from the Art Institute of Chicago, makes a broad range of work that can be seen in galleries, film festivals, live performances and on television. Her works have screened both nationally and internationally, and the National Educational Telecommunications Association distributed her major release, "Rat Stories," which aired on PBS affiliates in the United States, British Columbia and Puerto Rico.
For more information on the event, click here.