Bee proactive: UT students to compete in Biodesign Challenge in New York
June 14, 2018 |
Arts
,
Events
,
News
,
Research
,
UToday
,
Alumni
,
Arts and Letters
,
Engineering
,
Honors
,
Natural Sciences and Mathematics
By Vicki L. Kroll
---
A team of University of Toledo students is buzzing with excitement, preparing to compete against 29 schools in the Biodesign Challenge Summit in New York this month.
The four students will present "Apigiene Hive: Rethinking Bee Hygiene" at the international contest Thursday and Friday, June 21-22, at the Museum of Modern Art.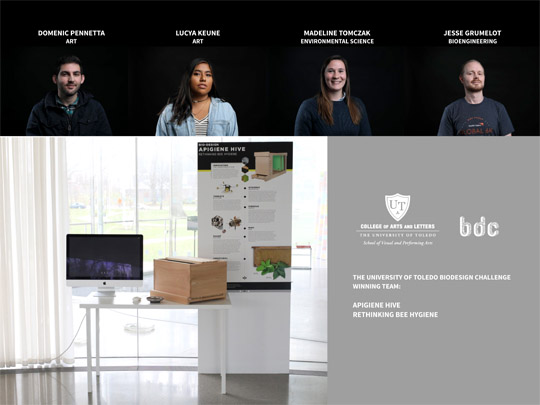 "We decided to focus on bees because of the recent problems with colony collapse disorder," said Madeline Tomczak, who graduated with a bachelor of science degree in environmental science in May.
"And we simply found those tiny yellow-and-black insects adorable," added Domenic Pennetta, a sophomore majoring in art. "By focusing on bees and their problems, we could help both bees and apiarists here in Ohio, and also have solutions that could potentially be used to benefit others around the globe."
Solving problems creatively is what the Biodesign Challenge is all about. The Genspace NYC program offers college students the chance to envision future applications of biotechnology by working together interdisciplinarily.
At UT, the Biodesign Challenge class in spring semester brought together students majoring in art, bioengineering and environmental science, as well as peers from the Jesup Scott Honors College.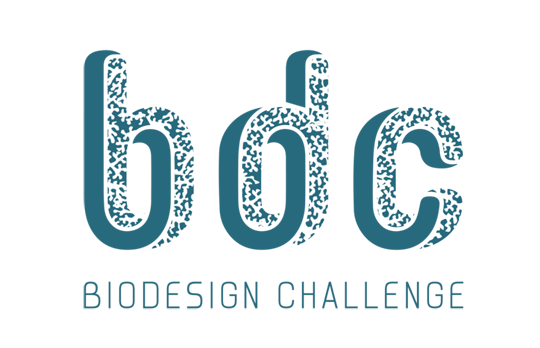 "The really wonderful part about participating in this challenge is it started with the students — they approached us about having the class," Eric Zeigler, associate lecturer in the UT Department of Art, said.
"One thing we thought was paramount in teaching this class: We were their peers. We were in the trenches with the students, asking questions, learning together," Brian Carpenter, lecturer and gallery director in the UT Department of Art, said. "It's been so inspiring. I tell everyone this is my favorite class I've taken."
Carpenter and Zeigler will travel with the team to the Big Apple, where the UT students will vie with teams from across the country, Australia, Belgium, Canada, Colombia, France, Guatemala, Japan and Scotland for awards, including the Animal-Free Wool Prize sponsored by PETA, Stella McCartney and Stray Dog Capital.
"These finalists were selected from a pool of 450 participants," Daniel Grushkin, founder and director of the Biodesign Challenge, said. "I firmly believe that they are leading us into a sustainable future with their visions."
Tomczak and Pennetta worked with Jesse Grumelot, who graduated in May with a bachelor of science degree in bioengineering, and Lucya Keune, a senior studying visual arts, to create additions for the popular Langstroth hive to fight one of the bees' biggest foes: mites.
"A fibrous brush filled with zebra mussel diatoms will target Varroa destructor mites on the surface of adult bees," Grumelot said. "In addition, mint-infused wax frames will eliminate Acarapis woodi mites, as well as Varroa destructor juveniles."
"We researched the problem, talking to specialists and professionals, and focused on natural ways to give bees a better environment to thrive," Keune said.
Part of that new environment includes placing a brush at the hive entrance to use what beekeepers call the sugar shake — but in a new way. To encourage bees to be more hygienic, beekeepers sometimes put powder sugar on the insects so they'll clean off the sweet stuff — and the nasty Varroa destructor mites.
"We use powdered zebra mussel to increase hygiene behaviors, which in turn helps kill the mites," Tomczak said.
The zebra mussel powder acts like diatomaceous earth, which, when crushed, can be used as a treatment for fleas and ticks on household pets.
"Since diatomaceous earth is often from oceanic rocks, we wanted to bring this part of the hive closer to home by looking at Lake Erie," Tomczak said. "Zebra mussel shells are abundant and easy to collect, and can be ground down to a fine powder."
The powder is then baked, sterilized, and made finer with a mortar and pestle. It will prompt the bees to clean up and get rid of the mites, and it will help kill any mites inside the hive.
And to tackle the Acarapis woodi mites, which invade the hive and lay eggs, the team turned to a natural deterrent: mint.
"We wanted to avoid the chemical sprays that can be harmful and stressful to the bee colony," Keune said. "We learned mint is used to fight mites; it's better for the bees and the honey."
"Our new hive features starting frames of beeswax infused with natural corn mint and peppermint," Grumelot said. "This method is a more accurate way to focus on the mite infestation, and it avoids spraying the entire hive, leaving the honey untouched and the bees happy."
In New York, the UT students will present their project to more than 200 scientists, designers, entrepreneurs and artists.
"This is a great resumé-builder for our students," Zeigler said. "Their design is economically feasible; beekeepers would just add two simple modifications to their existing hives. It's a happy solution, and one that could have tremendous market impact all over the world."
"This challenge is fantastic. It encourages students to think creatively, take risks, and gather science and data. They realize their designs can work," Carpenter said.
"I hope that by participating in this challenge that others will begin to look at relevant issues critically and try to find better solutions in creative ways," Pennetta said.