UT alum to launch new book
---
University of Toledo alumna Jasmine Shea Townsend will launch her new book, The Adventures and Shenanigans of Bastien Falco, on Friday, June 24, at 2 p.m. in the Ward M. Canaday Center for Special Collections on the fifth floor of Carlson Library.
The free, public event will include readings of selections from the book by Townsend.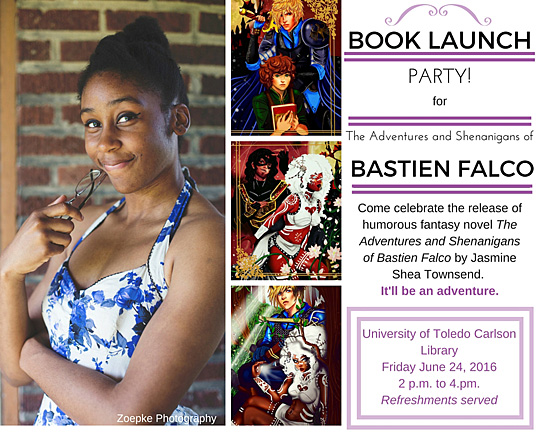 Described by Townsend as a comedic fantasy novel, the book follows the adventure of Prince Bastien and his manservant, Sandy, as they seek revenge for the murder of the prince's bride-to-be on their wedding day. In the process, the prince and Sandy are kidnapped by a mysterious woman and her gang of bandits.
Townsend received her bachelor of arts degree in creative writing from UT in 2013 and her master of arts degree in literature in 2015 also from the University.
Previous works by Townsend have received Mill Magazine's spring 2014 fiction award and a second-place award for a short story in 2015 from the Toledo Writers' Workshop.
Refreshments will be served. Copies of the book will be available at the event for $10.
For more information, contact the Canaday Center at 419.530.2170.