Blackboard Recognizes UToledo Online Health Class for Excellence
---
The Public Health Nutrition class at The University of Toledo has received a Blackboard 2020 Exemplary Course Program Award.
Dr. Debra Boardley, professor in the School of Population Health in the College of Health and Human Services, teaches the course. Dr. Claire Stuve, director of curriculum development, testing services and research in University College, helped design the online class.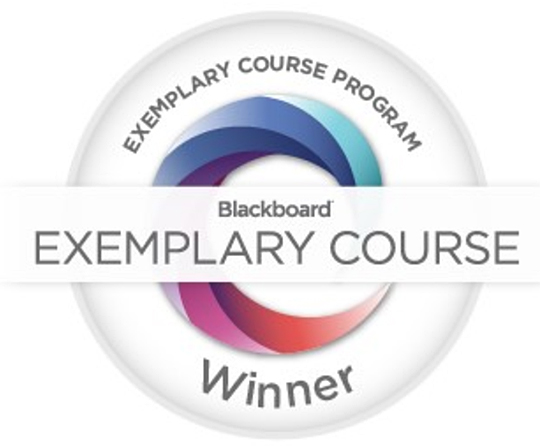 "I have found that most nutrition textbooks for graduate level are heavy in chemistry and biology," Boardley said. "I wanted a course based on science, but was also approachable and useful to students without that background. I focused on the major public health nutrition issues: What is a healthy diet? How does nutrition affect chronic disease? We explored the challenge of obesity and weight management, and we learned about government programs, from food labeling to school lunch, that promote better nutrition in the U.S."
Boardley wrote all the content for the graduate-level course.
"Then, as I say it, I made the content 'pretty,'" Stuve said. "I turned what she wrote into videos, images and interactive multimedia using instructional design best practices. We worked together to ensure that the assessments aligned with the learning objectives and that they also were engaging to students.
"Content in any course can be presented in a way that is relatable to students' real lives, so we made sure that was the case for this course," said Stuve, who has won two Blackboard Catalyst Awards for creating innovative online classes.
The two worked on the class spring semester 2019. They used a third-party tool to create the modules, which contain flashcards, knowledge checks and avatar simulations. They found some YouTube videos and images that already existed, and they created many new ones. Then the material was embedded in Blackboard and linked with some of Blackboard's tools.
"Class participation was high," Boardley said. "I think students were enthusiastic because the topic areas were broad, and they had the opportunity to delve into the aspects that were the most interesting to them."
"Although the course was designed to captivate students, I think it has the potential to change students' lives because it is about nutrition, and as Debra says, 'Nutrition impacts everyone because everyone has to eat,'" Stuve said.
The Blackboard Exemplary Course Program designation recognizes instructors and course designers whose classes demonstrate best practices in four major areas: course design; interaction and collaboration; assessment; and learner support. Courses were evaluated and selected through a peer-review process.
"I am so passionate about providing courses for students that not only intrigue them, but also help students to make positive changes in their lives; I want them to enjoy enriching their lives," Stuve said. "This award is meaningful to me because it means that we succeeded in creating that type of course and contributed to the University's online course excellence for which it is known."