Runner Represents Toledo at World University Games
---
Petronela Simiuc represented The University of Toledo and her home country of Romania this week in the 800 meters and 1,500 meters at the World University Games in Napoli, Italy.
On July 8, Simiuc competed in the first round for the 800 meters, clocking a time of 2:08.16 to place 19th, a qualifying mark for the semifinal. On July 11, Simiuc clocked a time of 4:27.36 to finish eighth in her heat and 15th overall in the first round of the 1,500 meters.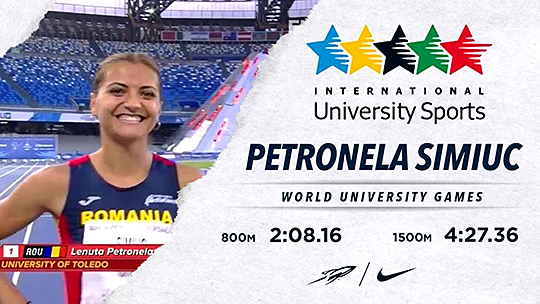 "It's exciting to see Petro representing not only Romania, but our track and field program internationally," said Adrian, associate head track and field coach. "We are looking forward to have Petronela back on campus this fall and see her finish an already great student-athlete career on a high note."
The Bacau, Romania, native earned silver in the 1,500 meters with a time of 4:27.86 at the Mid-American Conference Outdoor Championships last season. Simiuc recorded a season best 4:19.28 in the 1,500 meters at the Bryan Clay Invitational and a season best 2:08.27 in the 800 meters at the Raleigh Relays to take second. Simiuc also earned a spot at the NCAA East Prelims qualifier in the 1,500-meter event.
During the 2018 outdoor season, Simiuc posted a personal best of 4:17.50 in the 1,500m at the NCAA East Prelim. Simiuc clocked the second-fastest time in school history for the 1,500m at the 2018 MAC Championships; her time of 4:18.73 was a mere second from the MAC record (4:17.01) that teammate Janelle Noe set in the same race.
Simiuc holds the top two fastest times at Toledo for the 800 meters: 2:07.89 set in 2017 and 2:08.27 set in 2019.
Simiuc earned her undergraduate degree from The University of Toledo and is pursuing a master's degree in public health. She will return this fall on the cross-country course and be back on the track next spring.