University Hall tower to be reinforced with steel
---
The iconic tower of University Hall is being reinforced with structural steel to ensure the integrity of the 85-year-old structure.
W.R. Meyers Co. of Napoleon, Ohio, will use a helicopter crane to deliver the steel beams into the tower Friday, July 15, from 5 to 8:30 p.m. University Hall will be evacuated by 4:30 p.m. prior to the start of the work.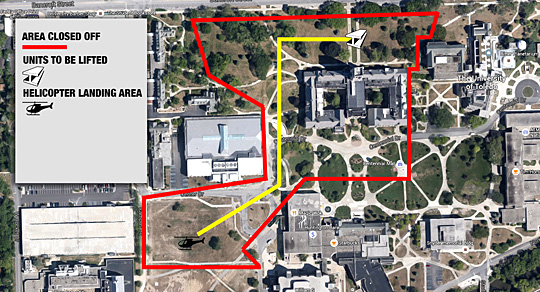 If it rains, the project will be moved to Saturday, July 16, from 5 to 8:30 p.m.
"The helicopter crane helps deliver materials to hard-to-reach places, making these types of projects faster and safer," said Jason Toth, associate vice president for facilities and construction. "This structural steel framework being installed inside our iconic bell tower will support the structural concrete to ensure it will greet students for years to come."
During the delivery of the steel on Friday, University Hall will be vacant, and helicopter landing areas in front of the building and in the field south of the Memorial Field House also will need to remain clear. The helicopter will initially land by Memorial Field House to drop off personnel and equipment and then will use the landing site in front of University Hall, where the steel will be stored prior to being lifted into the tower. In addition, no traffic will be allowed on Centennial Mall during the delivery.
The University worked with the Ohio Department of Natural Resources to be sure that all the peregrine falcons that reside in the tower are able to fly and will be able to leave the area during the commotion.
Following the initial delivery, the four tons of steel will then be permanently installed to the inside tower throughout the month. The project is expected to be complete by Friday, Aug. 12.
University Hall was the first building constructed on the UT Main Campus in 1931 when it was built in 11 months by 400 men. The building was designed by the architectural firm Mills, Rhines, Bellman & Nordhoff Inc. in the collegiate gothic style that has been replicated in buildings across campus.
The tower reaches 205 feet tall and features four clock faces, each 11 feet in diameter, and the chimes that mark the half hours and hours of the day.