UToledo Athletic Department's Reverse Raffle to be Held Virtually July 30
---
The University of Toledo Athletic Department's Reverse Raffle will take place virtually Thursday, July 30.
The decision was made to hold the Reverse Raffle virtually in order to ensure the health and safety of guests. The opportunity to win prizes, including the $7,500 grand prize, remains unchanged for all those who purchase tickets.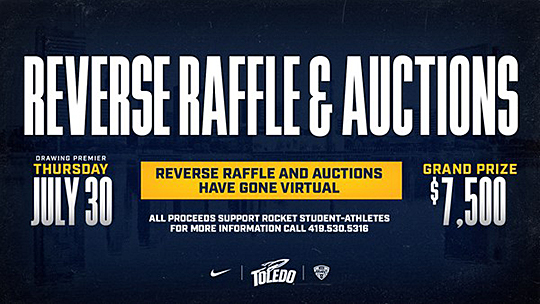 This event sells out every year. With only 350 tickets available for sale, be sure to get your tickets as soon as possible. You can still win big in the raffle drawing for cash and other prizes, and also participate in the silent auction with just a smartphone or a computer.
Ticket cost is $150 and includes:
• One entry into the reverse raffle drawing, which awards prizes to 58 total winners (the first ticket, every 10th ticket and the final 10 tickets drawn all receive prizes). The grand prize of $7,500 is based on 100% of reverse raffle drawing tickets sold. If 100% of tickets are not sold prior to the event date, prizes will be based on a sliding scale in proportion to the total number of tickets sold.
• A virtual check-in with coaches during the event while the virtual reverse raffle drawing is conducted.
• Six Rocket football ticket exchange vouchers for the 2020 Rocket football season (worth more than $155).
• Silent auction and premium raffle prizes accessible from your computer or smartphone.
All proceeds from the Reverse Raffle will benefit the Toledo Athletic Department and Rocket student-athletes.
Purchase tickets here or call 419.530.5316 and leave a voicemail.