New Location, Same Tradition: Art on the Mall Returns
---
The University of Toledo's Art on the Mall is back to reestablish its nearly three-decade family-friendly tradition for artists and patrons, after a hiatus in 2020 because of the pandemic.
Only, this year the art won't be at Centennial Mall.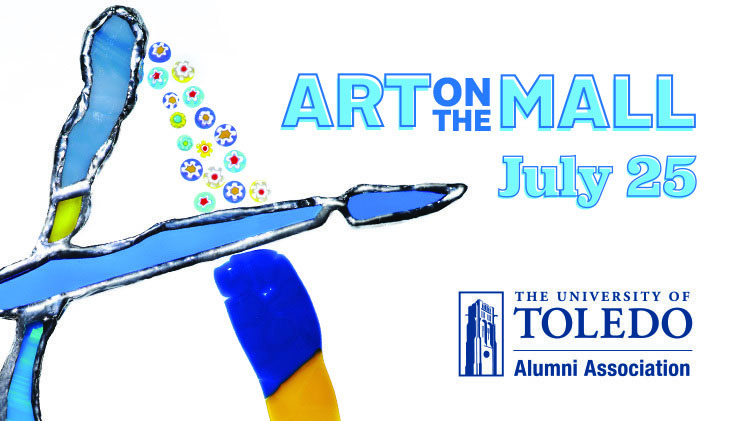 Spotlighting nearly 100 artists from around the country, the free, public event runs from 10 a.m. to 5 p.m. Sunday, July 25, at the Center for Alumni and Donor Engagement, 4510 Dorr St. The temporary relocation away from Main Campus is required because of the ongoing Centennial Mall Construction Project.
"Art on the Mall is one of the longstanding traditions of the Alumni Association," said William Pierce, Associate Vice President of Alumni Engagement. "In its 28th year, the juried art show is a great opportunity for community engagement and to showcase the excellent work of artists throughout the region,"
As always, Art on the Mall will feature a wide range of artwork including acrylic, glass, pen and ink, oil, mixed media, metals, photography, ceramics and jewelry for viewing and purchasing with either cash or credit card directly at an artist's booth.
In addition to showcasing artists, Art on the Mall will again offer activities and entertainment throughout the day, including a young artist area for children and live jazz music, as well as dining options.
The artists' work will be juried by representatives from The Detroit Institute of Art. Prizes will be given to the top artists, and UToledo's Best of Show award will be presented to an artist who is affiliated with the University.
"Art of the Mall has always been a family-friendly event and we look forward to seeing many familiar faces as well as those that stop by for the first time," Pierce said. "There will be something for everyone to enjoy."
Free parking will be available at the front of the property and a golf cart shuttle service will be available to transport guests and their packages to and from their vehicles.
Art on the Mall is supported by community sponsors WTOL 11, iHeart Radio, Mail It, the Toledo-Lucas County Port Authority, Lexus of Toledo and The University of Toledo Federal Credit Union.
"I am grateful for our sponsors as the show would not be nearly as successful without their support," Pierce said.
For more information, contact Ansley Abrams-Frederick at 419.530.2586 or Ansley.abrams@utoledo.edu.