See You at Art on the Mall July 28
---
Art on the Mall will return to The University of Toledo's Centennial Mall Sunday, July 28, from 10 a.m. to 5 p.m.
This summer marks the free, public event's 27th year of showcasing a variety of art on Main Campus. Attendees will have the opportunity to view and purchase all kinds of art, including acrylic, glass, pen and ink, oil, mixed media, metals, photography, ceramics, textiles, watercolor, woodwork, jewelry and more.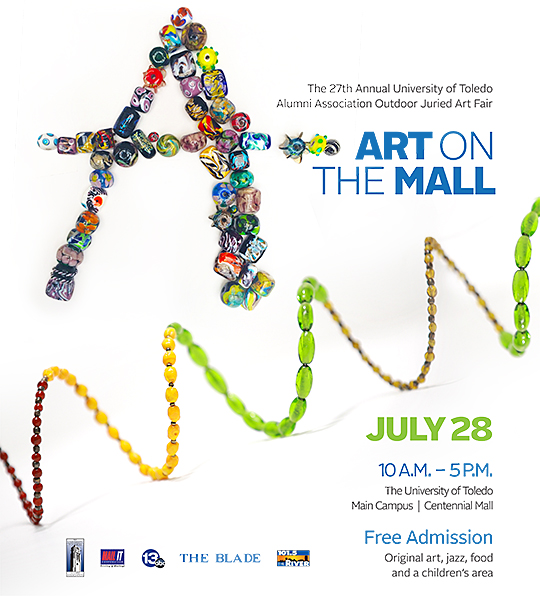 "This year we have invited more artists to participate in the show than we have in the past," said Ansley Abrams-Frederick, director of alumni programming in the UToledo Office of Alumni and Annual Engagement.
A total of 115 artists are expected to bring their creations to Art on the Mall.
"People can expect a lovely setting, a very comfortable, walkable show that has amazingly talented artists displaying beautiful works of art," Abrams-Frederick said.
All pieces of art are for sale. Guests can pay cash or with a credit card at the artist's booth or in the Thompson Student Union.
During the event, there will be food, music, kids' activities, free parking and golf cart shuttle service from the lots.
In addition, Art on the Mall offers a young artist area for children to try their hands at creating their own masterpieces, a music tent featuring jazz throughout the day, a beer garden, and a food court.
More than 13,000 people attended last year's show.
"I think the community really supports this event," Abrams-Frederick said. "The event attendees know that this is a one-day show, so they buy, knowing that it might not be there after they walk away."
Art on the Mall is supported by community sponsors 13abc, The Blade, Mail It and 101.5 The River.
"The artists love the show because of our supportive and receptive community," Abrams-Frederick added. "They love our volunteers and know that the people attending the show really appreciate their work. It's a great show with wonderfully talented artists in a beautiful setting. What more could you ask for?"
For more information, contact Abrams-Fredericks at 419.530.4316 or ansley.abrams@utoledo.edu.