Swimmer to Represent Canada at Pan-Am Games
---
Incoming Rocket Madison Broad will represent her home country of Canada in the swimming events of the 2019 Pan-American Games. The games will take place from Friday, July 26, through Sunday, Aug. 11, in Lima, Peru, and feature 424 total events, including 39 sports and 62 disciplines.
"I'm really excited for Madison. She's worked really hard and deserves this privilege of competing at this meet," said Head Coach Jonas Persson. "This is a great step in her already established international career. Madison will make an immediate impact at Toledo. She'll fit in really well with the team, both in the pool and personally. The staff, the team and I are really excited to have her join us in August. I know she's really excited to be a Rocket, as well."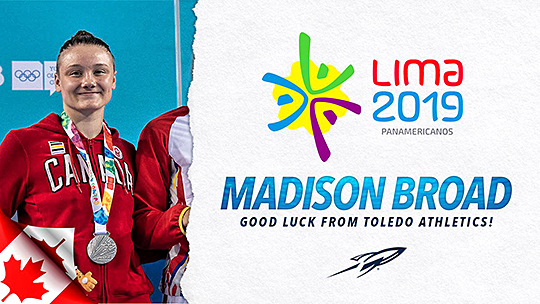 Broad is no stranger to success in the pool, having competed in several Canadian national and international tournaments as a backstroker. Nationally, Broad competed at the 2019 Canadian Swimming Trials and the 2017 and 2018 Canadian Swimming Championships. At the 2019 Canadian Swimming Trials, Broad took third in the 200 backstroke with a career-best 2:09.45 — a qualifying time for the 2019 Pan-Am Games. She also earned three gold medals at the 2017 Canadian Eastern Swimming Championships, as well as making her way into the finals in the 50, 100 and 200 backstrokes at the 2017 Canadian Swimming Championships.
The Wallaceburg, Ontario, native represented Canada at the 2018 Youth Olympic Games and 2018 Junior Pan-Pacific Championships, taking home medals at each tournament. At the 2018 Junior Pan-Pacific Championships, Broad took silver in the 200 backstroke and 400 medley, and bronze in the 100 backstroke. Broad earned a silver medal in the 200 backstroke at the 2018 Youth Olympic Games, and found a spot in the finals in the 50 and 100 backstrokes and the 400 mixed medley.
Broad will join the Rockets this fall, hoping to add some depth to the backstroke group.